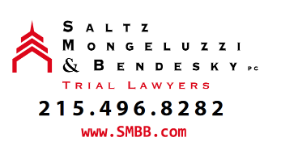 One Liberty Place, 52nd Floor
1650 Market Street
Philadelphia, PA 19103
United States
(215) 496.8282
Firm Details
Saltz Mongeluzzi Barrett & Bendesky, PC, is one of the nation's leading personal injury law firms. Its attorneys have secured some of the largest verdicts and settlements in the history of Philadelphia, Pennsylvania and New Jersey. It is widely regarded as the best law firm in the United States representing construction workers who have been injured or killed.
If you have experienced a catastrophic injury or the wrongful death of a loved one, SMBB's personal injury attorneys are dedicated to finding justice for you through the American legal system.
Saltz Mongeluzzi Barrett & Bendesky has earned a national reputation as the country's most specialized and experienced law firm in the representation of victims of construction accidents and construction falls. Known for winning tough, high-profile cases, SMBB personal injury attorneys also have an exceptional track record in championing the rights of victims ofworkplace accidents, medical malpractice, defective products, unsafe premises, liquor liability, motor vehicle accidents and class action injustices.
More Than 200 Verdicts and Settlements over $1 Million
Examples of SMBB's ability to obtain record-setting personal injury verdicts, settlements and arbitration awards and/or set legal precedents include:

$101 million settlement
for the Atlantic City, N.J., Tropicana Casino parking garage collapse - the largest construction accident settlement in U.S. history.
$75 million verdict
, the largest construction accident verdict ever awarded an individual U.S. construction worker and one of the largest jury verdicts in Philadelphia history.
$29.5 million settlement
for the Pier 34 collapse - one of the largest premises liability settlements
in Philadelphia history.
$17 million settlement
- two Hungarian tourists were killed when the duck boat they were on in the Delaware River was run over by a barge
$16.5 million
for a severely burned millwright - the largest personal injury settlement in the history of Lehigh County, Pa.

$14.7 million
settlement for a roofer whose skull was crushed by a falling hoist - one of the largest defective product settlements in Philadelphia history.
Other high-profile SMBB cases include a medical malpractice settlement on behalf of the teenager who died in a
University of Pennsylvania gene therapy trial
. The firm also secured the largest settlement ever reported - $20 million - involving bad faith by an insurer in Pennsylvania.
Currently, SMBB lawyers are representing the family of the worker who was crushed by a crane at a Manhattan subway construciton site. A Nursing home resident whose abuse was captured on a family planted nanny cam. The father killed by a drunk car salesman during a test drive. The lacrosse player who was shot by a Philadelphia law student.
Saltz Mongeluzzi Barrett & Bendesky's personal injury attorneys have also obtained million dollar-plus verdicts and settlements in scores of less publicized cases - cases that have been just as critically important to our clients victimized by life-altering personal injuries and wrongful deaths.
In addition, SMBB's class action attorneys have helped securesettlements in the tens and even hundreds of millions of dollars for the classes of wronged businesses and consumers that they represent.
If you or a family member has been injured or killed as a result of a serious accident - or been treated unfairly as a business or consumer - Saltz Mongeluzzi Barrett & Bendesky is committed to obtaining all the results you need and deserve. To learn how we can help, contact an
SMBB attorney today
.
"Our clients choose us because we get results. Insurance companies know us, respect us and fear us - which is what you want if you've suffered a catastrophic injury."

Robert J. Mongeluzzi
Firm Practice Areas
Personal Injury Litigation - Plaintiffs
Product Liability Litigation - Plaintiffs
Office Locations
United States
United States
Pennsylvania
Pennsylvania
Philadelphia, PA
One Liberty Place, 52nd Floor
1650 Market Street
Philadelphia, PA 19103
United States