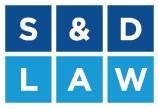 Firm Details
For over thirty nine years, we have helped fuel the success of our clients, serving as business and legal advisors and advocates for individuals, small businesses, and Fortune 500 corporations.
At S&D Law, which was formerly known as Silver & DeBoskey, we provide the best of both worlds:
the experience and ability of a large firm matched with the creativity, compassion, and concern of a small firm.
Our practice is sophisticated and dynamic because of who we serve:
astute business executives, corporate counsel, and risk managers who select S&D Law based on their real needs and our real results.
We are likewise engaged by and apply our experience to the interest of individuals and small business owners with whom we also enjoy long standing and valued relationships.
Our clients rely on us for the best possible advice and the most positive outcome.
What they get in return is a responsive, effective, and cost-efficient team that takes a personal stake in each case.
Our ability, attention to detail, and clear communication garner appreciation from our clients and respect from our peers.
Firm Practice Areas
Arbitration
Banking and Finance Law
Commercial Litigation
Environmental Law
Ethics and Professional Responsibility Law
Litigation - Construction
Litigation - Real Estate
Mediation
Personal Injury Litigation - Defendants
Personal Injury Litigation - Plaintiffs
Professional Malpractice Law - Defendants
Professional Malpractice Law - Plaintiffs
Real Estate Law