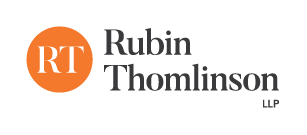 Rubin Thomlinson LLP
20 Adelaide Street East, Suite 1104
Toronto, ON M5C 2T6
Canada
416-847-1814
Firm Details
Founded in 2003, Rubin Thomlinson LLP is a Canadian law firm focused solely on workplace and institutional investigations and assessments, tactical training for HR professionals, and consulting. The firm's expertise in investigations, workplace harassment and misconduct is diverse and decades deep – giving Rubin Thomlinson the unique insight into these serious and high-stakes situations. Rubin Thomlinson has a national presence, with practitioners working in every sector across Canada.
Rubin Thomlinson's expertise in this field is considerable — spanning diverse sectors, provinces, and situations. The definitive text on workplace investigations, Human Resources Guide to Workplace Investigations, now on its second edition, was written by Rubin Thomlinson's managing partners, Janice Rubin and Christine Thomlinson.
Rubin Thomlinson LLP was named one of the Top 10 Labour & Employment Law Boutique Firms in Canada by Canadian Lawyer Magazine in both 2016/17 and 2018/19.
Both Janice Rubin and Christine Thomlinson regularly appear on Best Lawyers and Leading Practitioners lists in Canada. In 2016, Christine was awarded the Lexpert Zenith Award for her contribution to diversity and inclusion in the legal profession. In 2015, Janice was named the Employment Lawyer of the Year as part of the National HR Awards. In 2014, Janice was awarded the Lexpert Zenith Award for Practice Excellence in Employment Law. Rubin Thomlinson was included in Canadian Lawyer magazine's list of the Top Ten Employment Law Boutiques for 2015/2016 and 2017/2018. The firm was also named one of the most successful businesses owned by Canadian women in the 14th annual PROFIT/Chatelaine W100 ranking of Canada's Top Female Entrepreneurs.
Firm Practice Areas
Labour and Employment Law
Office Locations
Canada
Canada
Ontario
Ontario
Toronto, ON
20 Adelaide Street East, Suite 1104
Toronto, ON M5C 2T6
Canada