Robinson Sheppard Shapiro , S.E.N.C.R.L
Headquarters
800, rue du Square-Victoria, #4600
Montréal, QC H4Z 1H6
Canada
514-878-2631
Firm Details
RSS is a mid-sized, full service law firm dedicated to professional excellence, personal and high quality service and effective, solution-oriented advocacy.

Our attorneys possess a broad range of legal expertise and are committed to providing experienced, versatile and practical legal counsel. Our approach is simple, direct and uncompromising. We are tenacious in the pursuit of our clients' interests and focus on providing the best possible service in a quick, efficient and cost-effective manner.

Meeting our clients' legal and business needs is our greatest priority. We are highly attentive and committed to providing a common sense, skilled approach to problem solving. To that end, we do not merely respond – we anticipate; we are not passive but proactive.

Our strong foothold in the business community since the firm's inception in 1921, the high esteem in which our attorneys are held, our intense dedication to our goals and the strategic alliances we have forged with professional firms around the globe allow us to ensure that our clients achieve their objectives.

The bottom line is – our clients' success is ultimately our own.
Law Firm of the Year Awards
Insurance Law in Canada (2021)
Top Listed State Awards
Top Listed in Quebec, Canada in Insurance Law with 12 lawyers
"Law Firm of the Year"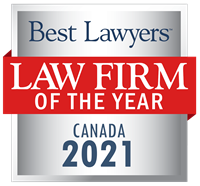 Canada's 2021 "Law Firm of the Year" in Insurance Law
Firm Practice Areas
Administrative and Public Law
Biotechnology Law
Corporate and Commercial Litigation
Corporate Governance Practice
Corporate Law
Family Law
Insolvency and Financial Restructuring Law
Insurance Law
Labour and Employment Law
Legal Malpractice Law
Maritime Law
Personal Injury Litigation
Private Funds Law
Product Liability Law
Railroad Law
Real Estate Law
Tax Law
Transportation Law
Trusts and Estates
Office Locations
Canada
Canada
Quebec
Quebec
Montréal, QC
800, rue du Square-Victoria, #4600
Montréal, QC H4Z 1H6
Canada
Saguenay, QC
255 Racine Street East, suite 530
Chicoutimi
Saguenay, QC G7H 7L2
Canada
Saint-Jérôme, QC
230, rue De Martigny Ouest, bureau 7
Saint-Jérôme, QC J7Y 2G3
Canada