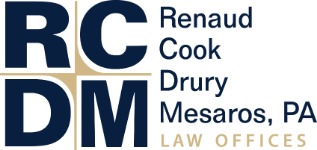 One North Central Avenue, Suite 900
Phoenix, AZ 85004-4417
United States
602-307-9900
Firm Details
For 65 years, we have provided our clients with excellent legal services. We are dedicated to solving problems and achieving optimal results.

The firm initially developed its reputation through litigation expertise, with our attorneys long recognized as premier trial lawyers, on both a local and national basis.

In response to the expanding needs of our clients, the firm has gradually extended its problem-solving approach to many specialty areas. Renaud Cook Drury Mesaros, PA offers a full range of legal services in the business and transactional areas, as well as in litigation. As a result, the firm's client base is strong and diversified; it includes Fortune 500 corporations, national and international insurers, self-insured businesses, public and closely held companies and private individuals.

Renaud Cook Drury Mesaros, PA is proud to be an active member of ALFA International. Founded in 1980, ALFA International is the oldest and one of the largest legal networks of independently owned law firms. Its worldwide membership includes 135 law firms with 85 members within the United States. Over 9,000 lawyers and another 10,000 support staff work for law firms affiliated with ALFA International. In the United States, ALFA International's member firms maintain offices in virtually every major metropolitan area.

Our attorneys practice in state and federal trial and appellate courts. Our most important accomplishment, however, is the multitude of successful outcomes that we have achieved on behalf of our clients.
Firm Practice Areas
Commercial Litigation
Health Care Law
Insurance Law
Product Liability Litigation - Defendants
Office Locations
United States
United States
Arizona
Arizona
Phoenix, AZ
One North Central Avenue, Suite 900
Phoenix, AZ 85004-4417
United States