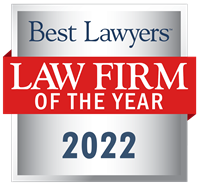 Firm Details
Pérez-Llorca is a pre-eminent law firm in Spain. The firm provides high-end advice to international and domestic clients in connection with the largest and most complex transactions and disputes in Spain or matters with a Spanish component. Pérez-Llorca prides itself on offering unrivalled quality, service and commitment to clients. The majority of the firm's work is cross-border and often involves several jurisdictions. As an independent law firm, Pérez-Llorca approaches multijurisdictional work by providing turnkey solutions together with other leading independent firms from Europe, the Americas or Asia. Pérez-Llorca offers full-service advice on Spanish law and operates from its offices in Madrid, Barcelona, London and New York.
Main Areas of Practice
Corporate/M&A: Leaders in high-end M&A with extensive experience incomplex, high-profile, international transactions. Significant experience in public M&A including competing tender offers and large private equity transactions. The team is consistently involved in the main transactions taking place in Spain.
Banking & Finance: A strong practice with a unified approach to debt financing and with extensive experience in all types of financing transactions, including bank financings, refinancing and restructuring, direct lending, and debt capital markets. The transactional practice has a team devoted to advising debt funds, sponsors, and other players in direct lending transactions. It also advises on banking regulatory and financial services matters, working closely with fund management and payment services industries and fintech projects.
Capital Markets: Best known for its high quality advice to clients on some of the largest, most complex and demanding ECM transactions. Advice includes IPOs, takeover bids, accelerated bookbuild offers, block trades, issuances of securities, shareholders agreements and private placements.
Real Estate: Pioneers in the development of the real estate practice in Spain. Advises on all types of matters regarding commercial, residential, retail, office, industrial, logistic, hospitality and tourism assets, throughout the entire real estate cycle. Handles all related advice including investments and divestments, development and construction, joint ventures, and lease and sale and leaseback.
Litigation & Arbitration: High quality advice to top-tier clients on large scale, complex and demanding disputes. Provides expert advice on dispute resolution both before Courts and Arbitral Tribunals, which requires experience and expertise in a variety of sectors and industries. Specific teams are created for each client, which can be both multidisciplinary and available for all the clients' language needs. Strong negotiation skills and experience in giving full and reliable advice to clients in pre-litigation or out of court dispute scenarios.
Restructuring & Insolvency: Advises businesses undergoing financial difficulties or in an insolvency situation. Multidisciplinary teams work together to advise on restructuring and/or refinancing debt, as well as financial institutions and non-financial creditors involved in insolvency and pre-insolvency proceedings.
White Collar Crime & Investigations: Specialises in complex transnational criminal investigations, high profile Spanish criminal litigation, ongoing advice regarding criminal and corporate compliance matters related to company crime, tax fraud, and money laundering leading to criminal liability of corporations and other legal entities. Also specialises in international mutual legal assistance(MLA), extradition procedures and European arrest and surrender warrants.
Administrative & Regulatory: An exemplary practice in Spain with a number of former state advocates and one of the biggest teams in Madrid. Advises public entities and private companies on their relations with public administrations and helps clients implement their ideas in innovative ways. Extensive experience in all areas of public and regulatory law, particularly in energy, life sciences, telecommunications and media. High quality legal advice on public contracts and concessions. Represents the interests of clients in disputes before administrative courts and in public law arbitration proceedings in all areas of public law.
Competition: Advises on domestic and EU merger control issues, cartel cases and abuse of dominance matters. Maintains regular contact with European and national competition authorities and provides practical advice with regard to antitrust litigation.
EU Law: Takes part in some of the most significant Spanish cases brought before the European Court of Justice, representing clients before various administrative and judicial European institutions. Participates in state aid cases, infringement procedures, complaints submitted to the European Commission and administrative reviews before the Administrative Board of Review of the European Central Bank.
Privacy, Innovation & Digital Business: Provides comprehensive legal advice to DPOs, and on data protection, security breaches and big data. Helps clients accomplish their digital transformation in full compliance with the regulation. Extensive experience in intellectual property and copyright law.
Land Planning: Offers multidisciplinary expert advice on all aspects of urban planning and management to large developers of shopping centres, business parks, office blocks, hotels, banks, investment funds, public administrations and public sector businesses, as well as mixed-natured entities such as compensation committees, urban conservation organisations and urban developers.
Tax: The tax team excels at providing specialist tax advice and planning in real estate transactions, M&A and IPOs. The team provides advice on international tax planning, tax audits and litigation procedures and receives mandates from numerous Spanish blue chip companies. Its advice also includes the fields of wealth management and sports taxation.
Employment: Proactive, business-minded practice which advises on labour and employment issues including negotiations with unions on corporate restructuring, labour adjustment procedures, collective conflicts, collective agreements, transfer of employees, pension schemes for employees and health and safety at work. Represents its clients in areas such as breach of contracts, compensation matters, accidents at work and dismissal proceedings. Provides full-service advice on labour matters arising from M&A and due diligence procedures and labour audits.
International Offices:
From the London office located in the City, the firm advises on cross-border transactions and provides its expertise to UK-based clients investing in the Spanish market.
From the New York office located on Park Avenue, the firm advises clients on Spanish law and adapts its multidisciplinary assessment to their needs in the US and Latin America.
Management
Law Firm of the Year Awards
Corporate and Mergers and Acquisitions Law in Spain (2022)
Administrative Law in Spain (2021)
Real Estate Law in Spain (2020)
Real Estate Law in Spain (2019)
Real Estate Law in Spain (2018)
Top Listed National Awards
Top Listed in Spain in European Union Law with 6 lawyers
Top Listed City Awards
Top Listed in Madrid in European Union Law with 6 lawyers
Top Listed in Madrid in Investment Funds with 4 lawyers
Top Listed in Madrid in Litigation with 7 lawyers
Top Listed in Madrid in Private Equity Law with 11 lawyers
Top Listed in Madrid in Venture Capital Law with 4 lawyers
Awards
Chambers Europe Awards 2017 - Spain Law Firm of the Year
Mergermarket European M&A Awards 2017 - Spain M&A Legal Adviser of the Year
Chambers Europe Awards 2015 - Spain Client Service
"Law Firm of the Year"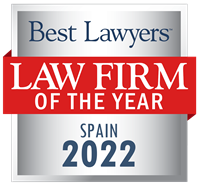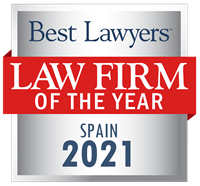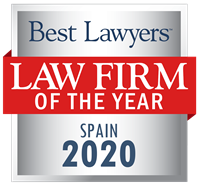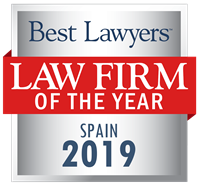 Pérez-Llorca has received the following "Law Firm of the Year" accolades. Only one firm in a practice area is awarded this top honor each year:
Spain's "Law Firm of the Year" awards:

Corporate and Mergers and Acquisitions Law - 2022
Administrative Law - 2021
Real Estate Law - 2020
Real Estate Law - 2019
Real Estate Law - 2018
Firm Practice Areas
Administrative Law
Arbitration and Mediation
Banking and Finance Law
Capital Markets Law
Competition / Antitrust Law
Energy Law
Environmental Law
European Union Law
Information Technology Law
Insolvency and Reorganization Law
Intellectual Property Law
International Arbitration
Labor and Employment Law
Land Use and Zoning Law
Litigation
Media Law
Planning
Privacy & Data Protection Law
Private Equity Law
Project Finance and Development Practice
Real Estate Law
Sports Law
Tax Law
Technology Law
Venture Capital Law