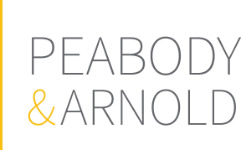 Headquarters
Federal Reserve Plaza
600 Atlantic Avenue
Boston, MA 02210-2261
United States
(617) 951.2100
Firm Details
Established in 1899, Peabody & Arnold is one of Boston's oldest law firms. Peabody & Arnold has concentrated its resources on advising individuals and businesses and representing them in litigation. It has developed and expanded its practice in step with the needs of clients throughout the United States.

Peabody & Arnold is comprised of approximately 54 lawyers practicing primarily in Boston, Massachusetts, with an office in Providence, Rhode Island. In addition, several attorneys are admitted to practice in courts in Maine and New Hampshire. The Firm has controlled its size to maintain its focus on providing high quality representation for clients.

Peabody & Arnold has a distinctive firm philosophy. In today's complex and constantly changing legal environment, we believe companies and individuals need counsel who provide specific expertise in resolving non-litigation and litigation matters, whether by trial or alternative dispute resolution.
Top Listed State Awards
Top Listed in Massachusetts in Insurance Law with 5 lawyers
Top Listed City Awards
Top Listed in Boston in Insurance Law with 5 lawyers
Firm Practice Areas
Employment Law - Management
Insurance Law
Legal Malpractice Law - Defendants
Litigation - Labor and Employment
Office Locations
United States
United States
Massachusetts
Massachusetts
Boston, MA
Federal Reserve Plaza
600 Atlantic Avenue
Boston, MA 02210-2261
United States
Rhode Island
Rhode Island
Providence, RI
40 Westminster Street, Suite 201
Providence, RI 02903
United States