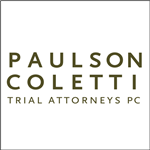 Paulson Coletti Trial Attorneys PC
1022 Northwest Marshall Street, Suite 450
Portland, OR 97209
United States
(503) 226.6361
Firm Details
Individuals & families in Oregon and Washington who experience personal injury, birth injury, traumatic brain injury, wrongful death or other serious or catastrophic injuries need our help.

You need superior legal representation when you have been wronged.

We are trial advocates for those who have been harmed, often severely, by the negligence or legal fault of others.

The Oregon personal injury attorneys here are a small, three-lawyer firm with the ability to hire the experts and investigators that a case may need.

We only accept cases with merit that we believe we can win.
Firm Practice Areas
Admiralty and Maritime Law
Medical Malpractice Law - Plaintiffs
Personal Injury Litigation - Plaintiffs
Product Liability Litigation - Plaintiffs
Office Locations
United States
United States
Oregon
Oregon
Portland, OR
1022 Northwest Marshall Street, Suite 450
Portland, OR 97209
United States