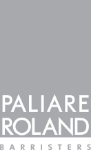 155 Wellington Street West, 35th Floor
Toronto, ON M5V 3H1
Canada
416-646-4300
Firm Details
Paliare Roland LLP is one of Canada's leading litigation firms.
Our clients receive exceptional service and advice from Paliare Roland's lawyers, many of whom are widely recognized as leaders in their fields. We have demonstrated and acclaimed expertise in a wide range of practice areas, including corporate-commercial litigation, administrative law, employment and labour law, appellate advocacy and class actions.
Paliare Roland's approach and commitment to its clients is reflected in the three fundamental principles it espouses: availability, alternatives, and advocacy. Our goal is to be available to our clients, to provide timely and effective advice, including a thorough review of available alternatives in order to craft a solution that is tailor-made for each situation. We then advocate resolutely for our clients to achieve their desired results whether through negotiation, arbitration, mediation or litigation.
Paliare Roland LLP is proud that one third of its lawyers are recognized by Best Lawyers as leaders in their fields.
Management
Law Firm of the Year Awards
Administrative and Public Law in Canada (2019)
"Law Firm of the Year"
Canada's 2019 "Law Firm of the Year" in Administrative and Public Law
Firm Practice Areas
Administrative and Public Law
Bet-the-Company Litigation
Class Action Litigation
Corporate and Commercial Litigation
Labour and Employment Law
Office Locations
Canada
Canada
Ontario
Ontario
Toronto, ON
155 Wellington Street West, 35th Floor
Toronto, ON M5V 3H1
Canada