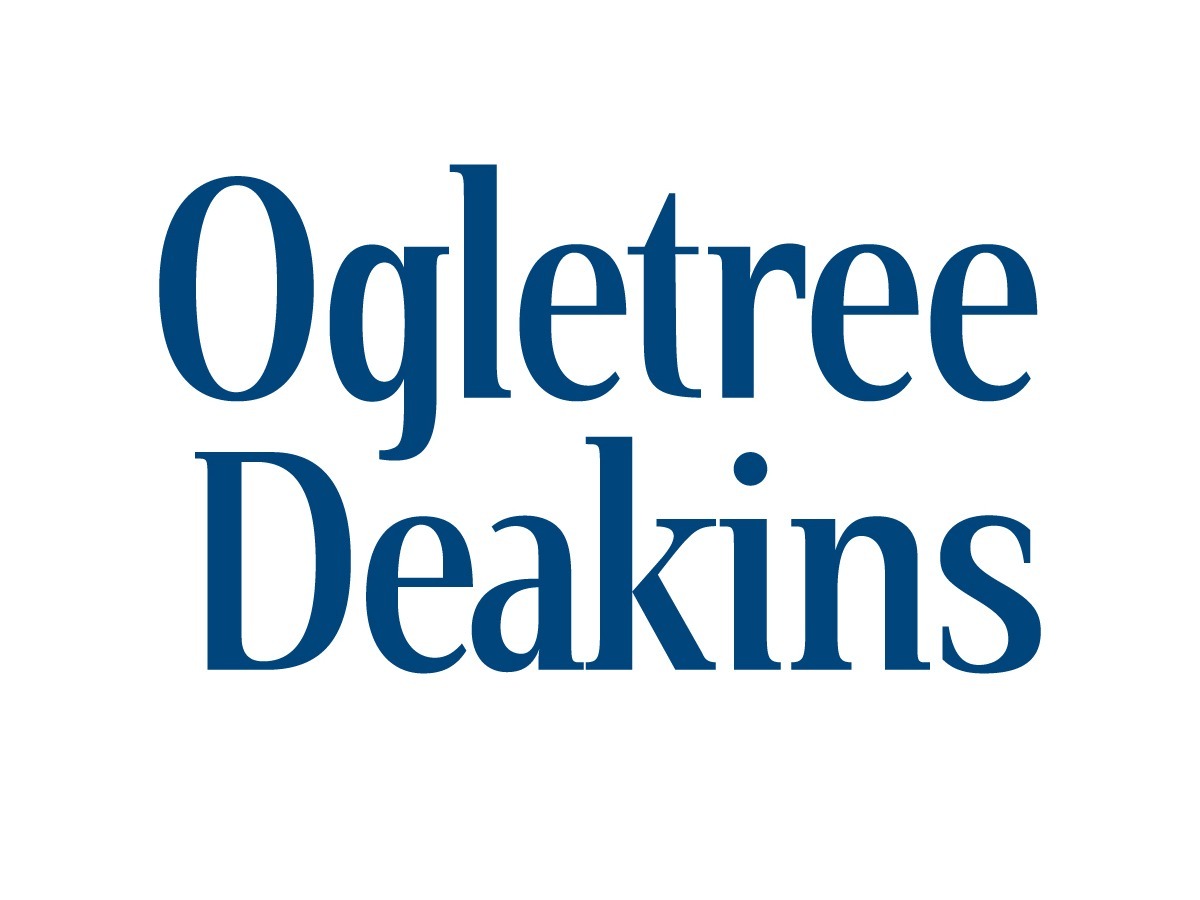 Ogletree, Deakins, Nash, Smoak & Stewart, P.C.

Headquarters
One Ninety One Peachtree Tower, Suite 4800
191 Peachtree Street, NE
Atlanta, GA 30303
United States
(404) 881.1300
Firm Details
Ogletree, Deakins, Nash, Smoak & Stewart, P.C. ("Ogletree Deakins") is one of the largest labor and employment law firms, with lawyers strategically located in more than 50 offices across the country. Serving as advocates for management, the firm has a national reputation for legal excellence and responsive client service. Ogletree Deakins' labor and employment practice is complemented and supported by related practice groups in the areas of business immigration, litigation, employee benefits, environmental law, mine safety, occupational safety and health, and construction law. The firm represents more than half of the nation's Fortune 50 Companies.
Management
Top Listed State Awards
Top Listed in Arizona in Employment Law - Management with 13 lawyers
Top Listed in Missouri in Employment Law - Management with 16 lawyers
Top Listed in South Carolina in Employment Law - Management with 23 lawyers
Top Listed in Texas in Employment Law - Management with 21 lawyers
Top Listed in North Carolina in Immigration Law with 4 lawyers
Top Listed in Arizona in Labor Law - Management with 5 lawyers
Top Listed in Texas in Labor Law - Management with 12 lawyers
Top Listed in South Carolina in Labor Law - Management with 10 lawyers
Top Listed in Wisconsin in Litigation - Labor and Employment with 7 lawyers
Top Listed in Missouri in Litigation - Labor and Employment with 14 lawyers
Top Listed in North Carolina in Litigation - Labor and Employment with 9 lawyers
Top Listed in Arizona in Litigation - Labor and Employment with 8 lawyers
Top Listed in Texas in Litigation - Labor and Employment with 12 lawyers
Top Listed in South Carolina in Litigation - Labor and Employment with 17 lawyers
Top Listed in Georgia in Litigation - Labor and Employment with 9 lawyers
Top Listed in South Carolina in Litigation - Labor and Employment with 4 lawyers
Top Listed in Georgia in Litigation - Labor and Employment with 6 lawyers
Top Listed City Awards
Top Listed in Tampa in Employment Law - Management with 8 lawyers
Top Listed in St. Louis in Employment Law - Management with 10 lawyers
Top Listed in Greenville in Employment Law - Management with 16 lawyers
Top Listed in Morristown in Employment Law - Management with 4 lawyers
Top Listed in Dallas in Employment Law - Management with 11 lawyers
Top Listed in Phoenix in Employment Law - Management with 11 lawyers
Top Listed in Raleigh in Immigration Law with 4 lawyers
Top Listed in Austin in Immigration Law with 5 lawyers
Top Listed in Greenville in Labor Law - Management with 9 lawyers
Top Listed in Tampa in Labor Law - Management with 4 lawyers
Top Listed in Dallas in Labor Law - Management with 7 lawyers
Top Listed in Phoenix in Litigation - Labor and Employment with 6 lawyers
Top Listed in Kansas City in Litigation - Labor and Employment with 7 lawyers
Top Listed in St. Louis in Litigation - Labor and Employment with 7 lawyers
Top Listed in Milwaukee in Litigation - Labor and Employment with 7 lawyers
Top Listed in Atlanta in Litigation - Labor and Employment with 6 lawyers
Top Listed in Atlanta in Litigation - Labor and Employment with 9 lawyers
Top Listed in Greenville in Litigation - Labor and Employment with 11 lawyers
Top Listed in Dallas in Litigation - Labor and Employment with 8 lawyers
Awards
The BTI Brand Elite: Client Perceptions of the Best-Branded Law Firms 2013 (several listings)
The BTI Litigation Outlook 2013: Powerhouse in Complex & Routine Litigation
MultiCultural Law Magazine - #53 in the Top 100 Law Firms for Diversity
MultiCultural Law Magazine - #39 in the Top 50 Law Firms for Partners
MultiCultural Law Magazine - #4 in the Top 100 Law Firms for Women
MultiCultural Law Magazine - #2 in the Top 25 Law Firms for African-Americans
The 2013 BTI Client Service 30 (ranked 17th)
The BTI Litigation Outlook 2014: Powerhouse in Complex Litigation
Corporate Counsel "Who Represents America's Biggest Companies" - Most Mentioned firm
Firm Practice Areas
Bet-the-Company Litigation
Commercial Litigation
Construction Law
Education Law
Employee Benefits (ERISA) Law
Employment Law - Management
Environmental Law
Immigration Law
Labor Law - Management
Litigation - Construction
Litigation - Environmental
Litigation - ERISA
Litigation - Labor and Employment
Personal Injury Litigation - Defendants