Firm Profile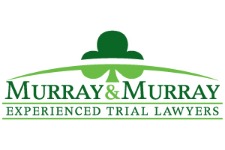 Murray & Murray Co., L.P.A.

111 East Shoreline Drive, Suite One
Sandusky, OH 44870-2579
United States
(419) 664.3711
Firm Details
Our Family
We are an established family firm started in 1931. We have been providing consistent, successful legal service to men and women who have situations that call for an experienced lawyer. Today, our family firm includes 10 attorneys, including six Murray partners, and we continue to build off of our rich and distinguished legal history to bring you the best service possible.
Our Firm
Our attorneys provide legal assistance within several practice areas. When you secure our law firm to help you with your legal issue, you are getting a diverse group of attorneys working within very focused practice areas. What does this mean for you? It means that you have at your disposal a team that can provide you with comprehensive knowledge within these areas. Our attorneys are skilled negotiators and trial lawyers, with the experience needed to protect your interests in negotiations, arbitration, and mediation, as well as in state and federal courts.
Our Motto
Our founders began their practice in 1931 with the determination to provide representation to working men and women who have been injured either physically or financially through no fault of their own. We maintain this motto today. Our greatest satisfaction comes from helping you, our clients. We have built an abundant heritage by remaining firmly focused on our clients. We maintain this commitment by providing knowledgeable and skilled legal representation, and by never forgetting the human, compassionate element in our practice. We offer free consultations over the phone or in person where our lawyers will meet with you to discuss your case, assess the best course of action and strive to get you the compensation you deserve. Our focus in personal injury, consumer protection and business litigation allows our family of lawyers to diversify while offering comprehensive advice within our practice areas.
Firm Practice Areas
Admiralty and Maritime Law
Arbitration
Civil Rights Law
Commercial Litigation
Consumer Protection Law
Employment Law - Individuals
Litigation - Insurance
Mass Tort Litigation / Class Actions - Plaintiffs
Mediation
Medical Malpractice Law - Plaintiffs
Personal Injury Litigation - Plaintiffs
Product Liability Litigation - Plaintiffs
Railroad Law
Office Locations
United States
United States
Ohio
Ohio
Sandusky, OH
111 East Shoreline Drive, Suite One
Sandusky, OH 44870-2579
United States