Firm Profile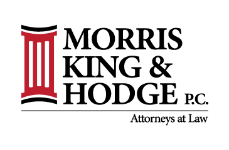 Morris, King & Hodge P.C.
200 Pratt Avenue, NE
Huntsville, AL 35801
United States
(256) 536.0588
Firm Details
Morris, King & Hodge, P.C. is a full-service personal injury firm located in Huntsville, Alabama. Our attorneys were all born and raised in Northern Alabama, and take pride in the city of Huntsville. We strive to help the injured with our trusted legal services, but we also look for ways to help make our community a better, safer place to live and work.
Since 1966, our lawyers have been representing injured victims and taking cases to court in North Alabama and throughout the United States.
With over 100 years of combined legal experience, the Attorneys at Morris, King and Hodge have the knowledge to take on all kinds of personal injury cases. We have a proven track record in the courts and our firm has recovered millions of dollars for our clients.
Visit our website at www.mkhlawyers.com to learn more about our firm and how we might be able to help you.
Awards
American Institute of Personal Injury Attorneys 2016 Client Satisfaction Award
About Our Clients
Clients of Morris, King & Hodge, P.C. can get help with personal injury cases involving car accidents, personal injury, wrongful death, and workplace injuries.  We also help clients in a variety of other cases including defective products, insurance, and business disputes. We currently serve clients in Huntsville, Decatur, Athens, Florence, Albertville, Scottsboro, and throughout the rest of Alabama.  Click here to get help now.
Firm Practice Areas
Appellate Practice
Business Organizations (including LLCs and Partnerships)
Insurance Law
Mass Tort Litigation / Class Actions - Plaintiffs
Personal Injury Litigation - Plaintiffs
Product Liability Litigation - Plaintiffs
Workers' Compensation Law - Claimants
Office Locations
United States
United States
Alabama
Alabama
Huntsville, AL
200 Pratt Avenue, NE
Huntsville, AL 35801
United States