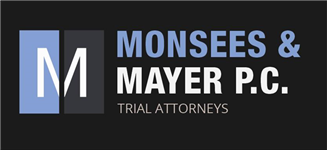 Headquarters
4717 Grand Avenue, Suite 820
Kansas City, MO 64112-2258
United States
(417) 242.5765
Firm Details
The law firm of Monsees & Mayer, P.C. is built on experience, relationships and results. Experience gives us an edge. Relationships forged through mutual trust drive our practice. Results set us apart.
Our main office is in Kansas City. We have a satellite office in Springfield and office sharing arrangements in St. Louis and throughout Missouri and Kansas. Our practice is national in scope, in that we have handled lawsuits in over half the 50 states. As a result, we have developed a network of attorneys we can call on to assist us with litigation throughout the country.

Our firm has been awarded the highest professional rating of "A/V" by Martindale-Hubbell, the preeminent legal rating publications, which is based on the opinions of fellow lawyers. The "A" reflects the highest level of professional competence and the "V" indicates the highest level of professional integrity.

The breadth of our legal practice is extensive, but we have established focus areas of practice that stand out. In recent years, we have committed to handling cases for victims of sexual abuse, particularly children victimized by abuse. We also devote much of our practice to those injured while hunting, including those injured due to defective tree stands and firearms. We continue to practice in many fields, and still welcome cases for automobile accidents, nursing home negligence and a variety of defective and dangerous products. We only represent the plantiffs--we do not work for product manufacturers, medical care providers or their insurance companies, although our past experience doing so is invaluable in dealing with these defendants. In almost 100 years of combined experience our attorneys have handled most types of claims and litigation. But we also welcome the challenge of new cases in developing areas of law.
As your attorneys, we will get to know you, communicate regularly with you and answer your questions as they arise. We want you to feel comfortable with your lawyer and with our firm. We do not charge for consultations, whether by phone or in person. And we take cases only on a contingent fee basis, which means you will not pay attorneys' fees unless we win your case.
At Monsees & Mayer, P.C. we believe in building great relationships. We are committed to responsive service and excellent communication with every one of our clients.
Awards
"Top 100 Trial Lawyers" - American Trial Lawyers Association

"Top 100 Trial Lawyers" - American Society of Legal Advocates

"Nations Top 1%" - National Association of Distinguished Counsel

"Top 25 Products Liability Lawyers" -National Trial Lawyers Association

"Top 100 Trial Lawyers" - The National Trial Lawyers

"Premier 100 Criminal and Civil Lawyers in Missouri" - American Academy of Trial Attorneys

"10 Best Law Firms - Client Satisfaction" 2014-2018 American Institute of Personal Injury Attorneys

"Best Law Firms" -U.S. News and World Report

"Superb" - Avvo Rating - Top Lawsuits & Disputes

"AV" Rated - Martindale Hubbell

&
About Our Clients
We represent people like you who are the victims of the negligence of another. Whether you suffer from personal injuries or loss of a loved one, we can help. While no one can put your life back the way it was, we will seek compensations for medical bills, lost income, pain and suffering, and other damages. But we are also there when the help you need is not legal, but just someone to listen.
Firm Practice Areas
Brain Injury
Catastrophic Injury
Commercial Litigation
Medical Malpractice Law - Plaintiffs
Personal Injury
Personal Injury Litigation - Plaintiffs
Product Liability
Product Liability Litigation - Plaintiffs
Wrongful Death
Office Locations
United States
United States
Missouri
Missouri
Kansas City, MO
4717 Grand Avenue, Suite 820
Kansas City, MO 64112-2258
United States
Springfield, MO
1021 East Walnut Street
Springfield, MO 65806
United States