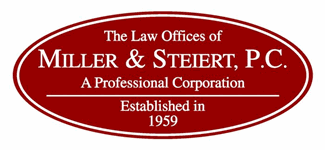 Miller & Steiert, P.C.

1901 West Littleton Boulevard
Littleton, CO 80120-2087
United States
(303) 798.2525
Firm Details
FULL SERVICE LAW FIRM IN DENVER | MILLER & STEIERT
Miller & Steiert has been a litigation-based practice since its founding in 1959 by Marty Miller. Today, the next generation, represented by Mike and Katy Miller and the other shareholders, attorneys, and staff, maintain a tradition of responsibility to the individual client that sets the firm apart.
We offer a full range of legal services to our clients, from criminal defense to employment advice, and from commercial law guidance to estate planning. No matter what your legal needs are,contact Miller & Steiertto let us put our 50 years of experience to work for you.
Firm Practice Areas
Appellate Practice
Litigation - Trusts and Estates
Trusts and Estates
Office Locations
United States
United States
Colorado
Colorado
Littleton, CO
1901 West Littleton Boulevard
Littleton, CO 80120-2087
United States