Firm Profile
Firm Details
Firm Profile
Meyerlustenberger Lachenal Ltd. (MLL) is one of the most reputable international business law firms in Switzerland. Our 100 experienced and dynamic lawyers form a strong team of specialists that stand for innovative and solution-focused services. With offices in Zurich, Geneva, Zug and Lausanne we are present in the key Swiss economic centres. Our Chinese, Turkey and Latin America desks are a gateway to and from these regions.
Swiss and international clients as diverse as corporations, banks and families appreciate the accessibility and involvement of our partners in representing their interests. Our experience serving clients from across the sectors has given our lawyers a practical understanding of business and allows us to deliver legal advice that works in a commercial context.
International Recognition
The firm Meyerlustenberger Lachenal and its lawyers are regularly recognized as leaders by the main independent and international legal directories as well as numerous reputable legal publications.
In particular the firm has been ranked as one of the best Swiss law firms for many years in the areas of Banking & Finance, Capital Markets, Mergers & Acquisitions, IP, Private Banking and Real Estate.
Management
Demographics
Partners
Women: 6
Men: 28
Of Counsel
Women: 2
Men: 8
Associates
Women: 20
Men: 20
Other Lawyers
Women: 5
Men: 10
Non-Legal Employees
Women: 50
Men: 2
Law Firm of the Year Awards
Intellectual Property Law in Switzerland (2020)
Top Listed National Awards
Top Listed in Switzerland in Intellectual Property Law with 5 lawyers
"Law Firm of the Year"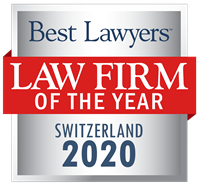 Switzerland's 2020 "Law Firm of the Year" in Intellectual Property Law
Firm Practice Areas
Advertising Law
Banking and Finance Law
Capital Markets Law
Construction Law
Corporate Law
Energy Law
Immigration Law
Information Technology Law
Insolvency and Reorganization Law
Intellectual Property Law
Investment Funds
Labor and Employment Law
Litigation
Media Law
Mergers and Acquisitions Law
Pharmaceuticals and Life Sciences Practice
Private Equity Law
Real Estate Law
Tax Law
Technology Law
Telecommunications Law