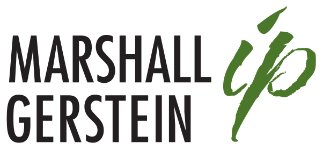 Headquarters
6300 Willis Tower
233 South Wacker Drive
Chicago, IL 60606-6357
United States
312-474-6300
Firm Details
Marshall, Gerstein & Borun, with over 90 attorneys, patent agents and technical specialists, is ranked as one of the top intellectual property boutique firms in the country. The Firm is at the forefront of intellectual property law as its professionals understand the hard science behind clients' innovations and how to devise, evaluate and execute intellectual property strategy. Fortune 500 corporations, small to mid-sized companies, non-profits and inventors turn to Marshall Gerstein for comprehensive intellectual property solutions tailored to their needs. The Firm protects, enforces and transfers clients' intellectual property worldwide.
Nearly 90% of the Firm's attorneys and patent agents are admitted to practice before the U.S. Patent & Trademark Office.
Nearly 90% of the Firm's attorneys have science or engineering degrees.
Almost half have a Ph.D., M.D., or other advanced technical degree.
The Firm's attorneys enjoy unparalleled technical knowledge and experience pivotal in the protection of some of the most influential intellectual property in the world.
Management
Clients
Amgen Inc.
BASF SE
Baxter International
CDW Corporation
Charter Communications, Inc.
Eli Lilly & Co.
Emerson Electric Co.
Groupon, Inc.
Guinness Worlds Records Limited
InterMune, Inc.
Ludwig Institute for Cancer Research
The Procter & Gamble Company
UL LLC
About Our Clients
Amgen Inc.
Aon Corporation
BASF Group
Charter Communications
CDW Corporation
Eli Lilly and Co.
Emerson Electric Co.
Shop-Vac Corporation
Firm Practice Areas
Copyright Law
Litigation - Intellectual Property
Litigation - Patent
Patent Law
Trade Secrets Law
Trademark Law
Office Locations
United States
United States
Illinois
Illinois
Chicago, IL
6300 Willis Tower
233 South Wacker Drive
Chicago, IL 60606-6357
United States
North Carolina
North Carolina
Raleigh, NC
555 Fayetteville Street, Suite 300
Raleigh, NC 27601-3034
United States