Firm Details
Magliona Abogados provides legal services of excellence both to local and multinational companies. We specialize in corporate matters, tax services, complex business litigation and finance structures, telecommunications, technology law, intellectual and industrial property and management of government relations and public policies, including, among others, corporate structuring, due diligence planning, mergers and acquisitions, financial assistance, syndicated loans, liability restructuring and leasing. We are experts in licensing and software development agreements, technological platforms, franchises, data protection, computer crimes, distribution, production and financing of film and television.
Demographics
Partners
Hispanic: 4
Men: 4
Of Counsel
Hispanic: 1
Men: 1
Law Firm of the Year Awards
Technology Law in Chile (2021)
Contacts
"Law Firm of the Year"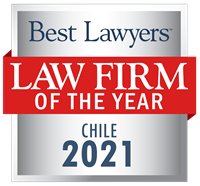 Chile's 2021 "Law Firm of the Year" in Technology Law
Firm Practice Areas
Criminal Defense
Entertainment Law
Information Technology Law
Intellectual Property Law
Litigation
Privacy and Data Security Law
Real Estate Law
Venture Capital Law
Office Locations
Chile
Chile
Santiago, Chile
Av. Andrés Bello 2687, Piso 24
Las Condes
Santiago 750000
Chile