Firm Profile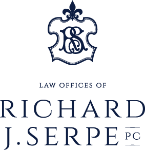 Law Offices of Richard J. Serpe, P.C.
580 East Main Street, Suite 310
Norfolk, VA 23510
United States
(757) 233.0009
Firm Details
The Law Offices of Richard J. Serpe, P.C. is a Norfolk, Virginia-based law firm assisting personal injury victims statewide. Attorney Richard Serpe has dedicated 35 years to helping those injured due to the negligence or recklessness of another person, a dangerous product, or company. A large portion of his legal career has been devoted to helping injured children.
Our goal is to seek justice and earn the very best outcome for our clients in the most trying days of their lives. After an accident, it's easy to feel overwhelmed and stressed out. Your injuries, the insurance company, the at-fault party, and the legal system are a lot for anyone to face. So, when going it alone doesn't sound like an appealing option, the Serpe Firm is here to help. Our Virginia personal injury law firm can help you seek compensation for pain and suffering (physical pain and emotional anguish), medical bills, lost wages, and other financial losses you've suffered.
When you put your trust in the Law Offices of Richard J. Serpe, PC, you can rest easy knowing we'll act with your best interests in mind. With open ears and hearts, our team is eager to help you in your hour of need. Our clients become like family – and as family, we take your concerns to heart.
Firm Practice Areas
Admiralty and Maritime Law
Personal Injury Litigation - Plaintiffs
Product Liability Litigation - Plaintiffs
Wrongful Death
Office Locations
United States
United States
Virginia
Virginia
Norfolk, VA
580 East Main Street, Suite 310
Norfolk, VA 23510
United States