Firm Profile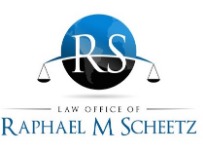 425 Second Street, SE, Suite 1010
Cedar Rapids, IA 52401
United States
(319) 378.7416
Firm Details
Raphael (Ray) Scheetz founded the Law Offices of Raphael M. Scheetz in 1994 to focus his attention on the practice of criminal defense and immigration cases.
He was one of the first lawyers in Iowa who specialized in the practice of immigration law. He has represented hundreds of American citizens and immigrants who have matters with the United States Citizenship , Immigration Service, United States Immigration and Customs Enforcement.
The cases included American citizens who marry or intend to marry a person living in a foreign country or who want to petition for their children, parents, or brothers or sisters that live outside of the United States.
Mr. Scheetz has successfully navigated his clients through the immigration process before the United States Citizenship and Immigration Service, Immigration Court, and Board of Immigration Appeals.
Mr. Scheetz has also successfully represented hundreds of persons accused of Federal and State criminal offenses.
He has been lead defense counsel in over a hundred jury trials in State and Federal court and reached "not guilty" verdict for clients accused of white-collar felonies, such as bank fraud, infringement of copyrights, bankruptcy fraud, wire fraud, offenses involving internet pharmacy violations, to name a few.
Mr. Scheetz has also represented persons accused of crimes such as drug possession, manufacture and/or distribution, domestic assault, firearm offenses, arson, kidnapping, first-degree murder, and theft, which you can read about on our success stories page.
AREAS OF PRACTICE
Immigration and Naturalization
LawCriminal Defense Law
Management
About Our Clients
WHY CLIENTS CHOOSE US?
When it comes to matters that can irrevocably affect your reputation, freedom, and future, you deserve excellent representation. 
Our clients choose us because we're experienced, relentless and effective,  and also because we help them to achieve the best result possible.
Mr. Scheetz has premium qualifications and an outstanding track record of success. He will access the situation and explain your options, suggesting the best way forward. 
He will be with you all the way through the process, utilizing his knowledge of the law to navigate you in challenging circumstances. Read our success stories and customer reviews about our clients' experience.
Contacts
Firm Practice Areas
Criminal Defense: General Practice
Immigration Law
Office Locations
United States
United States
Iowa
Iowa
Cedar Rapids, IA
425 Second Street, SE, Suite 1010
Cedar Rapids, IA 52401
United States