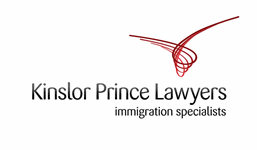 Firm Details
Kinslor Prince Lawyers is an administrative law firm with an outstanding reputation in immigration law. Its Principals are two of Australias leading experts on immigration law, David Prince and Joanne Kinslor.

Kinslor Prince Lawyers is focused upon finding innovative and pragmatic solutions for clients and giving strategic advice.We are skilled in assisting clients in their dealings with government departments and agencies at all levels.

Kinslor Prince Lawyers is best known for our work in immigration law, which is one of the most complex and rapidly changing areas of administrative law in Australia. We handle all types of Australian visas and appeals to all of Australia's immigration tribunals and courts, as well as appeals to the Minister for Immigration.

David Prince and Joanne Kinslor have a reputation for successfully solving complicated immigration problems and winning difficult cases. Together they have 30 years of experience in immigration law.

David and Joanne have been inclused in Best Lawyers — Australia, Immigration Law 2008, 2009, 2010, 2011, 2012 and 2013.

In 2012 David was voted Lawyer of the Year, Immigration, Sydney.

Office Locations
Australia
Australia
Sydney, Australia
Suite 705, Level 7
155 King Street
Sydney NSW 2000
Australia