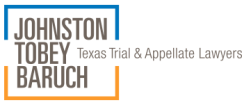 Firm Details
Few law firms in the United States are as well known for handling difficult and complex cases involving alleged wrongdoing by professional service firms, including lawyers, accountants and insurers. In fact, Johnston Tobey Baruch is best known as pioneers in the prosecution and defense of legal malpractice claims, grievance defense and fee disputes. Few areas of litigation are as complex or hard-fought.
In addition, the Dallas-based firm has established a sophisticated and successful commercial litigation practice, handling high-stakes cases, with expertise extending to arbitration and appellate matters. Today, Johnston Tobey Baruch has carved out an enviable record, litigating a full range of business disputes, financial transactions, and fiduciary claims, as well as civil, family and criminal appeals. Also, the firm is developing a rapidly growing employment law practice with specific emphasis on gender discrimination, equal pay disputes, retaliation claims, Family Medical Leave Act, and disability. Approximately 75% of the firm's clients are plaintiffs and most of the employment-related trial work is in federal court.
The firm's practice is built on the knowledge, responsibilities and commitment to ethical behavior in the practice of law. The firm's attorneys showcase this commitment every day, offering the personal attention of a boutique with the experience and insights of seasoned litigators and counselors.
All five shareholders are recognized in in the 2020 edition of The Best Lawyers in America, while each have been honored by their peers, associations and other legal publications for their courtroom expertise, community service, and support of the legal profession. The firm's attorneys are frequently featured in news reports, offering opinions and observations on a variety of business issues and trends. Johnston Tobey Baruch also supports a frequently updated blog offering advice to its readers and news about the firm.
Practice Areas:
Accounting Malpractice
Bad Faith Insurance
Business Disputes
Civil Appeals
Commercial Litigation
Criminal Appeals
Defamation Claims
Drone Law
Employment Law Counseling
Employment Litigation
Expert Testimony
Family Law Appeals
Fiduciary Litigation
Investment Fraud
Legal Malpractice
Workplace Retaliation
Office Locations
United States
United States
Texas
Texas
Dallas, TX
12377 Merit Drive, Suite 880
Dallas, TX 75251
United States