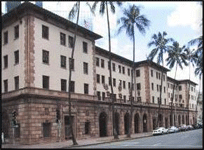 Hirota & Associates, LLLC

Dillingham Transportation Building, Suite 402
735 Bishop Street
Honolulu, HI 96813-4817
United States
(866) 468.5811
Firm Details
Hirota & Associates, LLLC is devoted exclusively to U.S. immigration and nationality matters. We have a reputation for handling even the most complex immigration issues.

Our attorneys and staff speak Japanese, Ilocano and Tagalog.

Maile Hirota began her legal career in Ohio as an associate with Taft, Stettinius & Hollister, a large law firm in Cincinnati. After practicing immigration law in Ohio for two years, Ms. Hirota returned to her family in Hawaii and joined Lynch & Farmer in 1997. She was named a partner of Lynch Ichida Thompson Kim & Hirota in 2002 and in 2009 founded Hirota & Associates. Ms. Hirota's practice concentrates solely in US Immigration and Nationality law.

Ms. Hirota is an active member of the American Immigration Lawyers Association (AILA), having served on numerous committees and as the Chair of the Hawaii Chapter from 2012 - 2014 and also from 2003-2005. She has served the American Immigration Council (formerly American Immigration Law Foundation) on its Legal Action Center Advisory Committee.

Ms. Hirota has been chosen by her peers as one of the "Best Lawyers in America" each year since 2008 in the field of Immigration Law, and she was named Lawyer of the Year in Immigration Law for Honolulu in 2015 and 2018. She is a frequent public speaker on immigration matters and has spoken to such groups as Hawaii Public Radio, Hawaii Pacific University, JAG Corps, and the Rotary Club. Ms. Hirota is a member of IMMLAW, a group of experienced immigration lawyers including national leaders in the immigration field. IMMLAW members are strategically located throughout the United States.

Ms. Hirota represented An Na Peng in her successful Presidential Pardon. President Barack Obama granted seventeen pardons on March 1, 2013, one of them to Honolulu resident and Hirota & Associates client, An Na Peng. Ms. Peng legally immigrated from China and sought the pardon as a last resort while she fought deportation for 17 years. If she had not won her case at the 9th Circuit Court of Appeals, the Presidential pardon would have been her only hope. The presidential pardon granted to An Na Peng is the first immigration-related pardon in more than a decade.
Stella Shimamoto served as the Chair of the Hawaii Chapter of the American Immigration Lawyers Association for three consecutive years from 2018-2021. Prior to being elected Chapter Chair, Ms. Shimamoto served the Hawaii Chapter as Secretary and Treasurer.
Management
Demographics
Partners
Women: 1
Multi-Racial: 1
Associates
Women: 1
Asian: 1
Non-Legal Employees
Women: 1
Asian: 1
Awards
Best Law Firms, top tier
Martindale Hubbell Client Distinction Award
Clients
Baldridge & Associates Structural Engineering
Hawaii Pacific Health
Hawaii Pacific University
Hawaiian Airlines
Yogi Kwong Engineering
About Our Clients
Baldridge & Associates Structural Engineering
Eggs 'N Things Hawaii, Inc.
Hawaiian Airlines
Hawaii Pacific Health
Hawaii Pacific University
Yogi Kwong Engineering


Office Locations
United States
United States
Hawaii
Hawaii
Honolulu, HI
Dillingham Transportation Building, Suite 402
735 Bishop Street
Honolulu, HI 96813-4817
United States