Bentall 5, 14th Floor
550 Burrard Street
Vancouver, BC V6C 2B5
Canada
604-684-6633
Firm Details
Harris & Company LLP is Western Canada's largest workplace law and advocacy firm. Since our founding in 1992, we have grown to a team of 45 lawyers who assist clients in a wide range of industries, in both public and private sectors.
Harris was founded by ten partners with the objective of creating the best labour and employment law firm in the country. The decision to focus our practice on labour and employment enables us develop our knowledge, acumen, and experience in these areas which benefits our clients. When working with Harris, clients are confident they are working with an experienced team who understand the legal framework surrounding workplace law and are informed and knowledgeable about recent industry developments, significant decisions, and emerging issues. We provide our clients with creative, flexible, and intellectually aggressive advice, ensuring they have the information necessary to make sound decisions, solve problems, and take action to meet their business goals.


Labour Law
Harris offers employers a full range of labour law services. Fundamentally, we view our work as a partnership with clients: we help clients find solutions for both their day-to-day and complex human resource issues to avoid litigation and strengthen their business.
Employment Law
Harris advises non-union clients on all aspects of the employment relationship. We base our advice on: knowledge of the client's strategic, personal, and business goals; specific issues in the workplace; and, the overall legal and business considerations in the industry. Our lawyers understand that in the case of a dispute, the best resolution meets the business' overall goals and fosters important long-term relationships.
Human Rights Law
Harris lawyers provide strategic and thoughtful advice on all aspects of the Human Rights Code, provincial and federal human rights statutes, and the Canadian Charter of Rights and Freedoms. We work with employers to identify potential risks and to ensure their workplace culture addresses new and changing legal realities.
Education Law
Harris is a leader in education law in British Columbia representing and providing strategic and principled advice to K-12 education boards across the province. Harris understands schools and the challenges they face; we provide advice to public, independent, and First Nations school boards to assist them fulfill their educational mandate by preventing and solving problems in an efficient and cost-effective manner.
Commercial Litigation
Our team of experienced litigators will assist you to successfully resolve your complex commercial disputes in an effective, economical manner.
Privacy and Access to Information
Our team has significant expertise advising provincially regulated public bodies on their obligations under the FIPPA; federally regulated private sector employers on their obligations under the PIPEDA; and private sector employers on issues arising under the PIPA. We help clients navigate the competing obligations under this complex legislative framework and have represented clients in numerous complaints, inquiries, and reviews before the Information and Privacy Commissioner.
Workers' Compensation
We work with clients using in-depth knowledge of, and experience with, federal and provincial statues and regulations regarding occupational health and safety to help them fulfill their legal rights and obligations, prevent future problems, and reduce costs. If a claim or incident arises in the workplace, we assist employers navigate the administrative process and fully represent them to protect their interests.
Occupational Health & Safety
We're widely recognized as top Occupational Health lawyers in Western Canada and have proposed changes to legislation in this area. We are also frequent speakers and authors on OH&S legislation, case law and trends.

Law Firm of the Year Awards
Labour and Employment Law in Canada (2020)
Top Listed National Awards
Top Listed in Canada in Education Law with 4 lawyers
Top Listed State Awards
Top Listed in British Columbia, Canada in Education Law with 4 lawyers
Top Listed in British Columbia, Canada in Labour and Employment Law with 18 lawyers
Top Listed City Awards
Top Listed in Vancouver in Education Law with 4 lawyers
Top Listed in Vancouver in Labour and Employment Law with 18 lawyers
"Law Firm of the Year"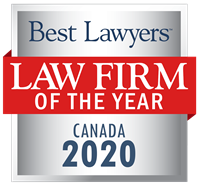 Canada's 2020 "Law Firm of the Year" in Labour and Employment Law
Harris & Company was named the 2020 "Law Firm of the Year" in Canada for work in Labour and Employment Law.  Managing Partner 
Colin G.M. Gibson
 sat down with Best Lawyers CEO Phillip Greer to discuss workplace safety, the inexorable growth of paid leave, and why union picketers must not protest any louder than the volume of a household Hoover.  Read the full article here: "
Leading the Evolution in Workplace Law
."
Firm Practice Areas
Corporate and Commercial Litigation
Education Law
Employee Benefits Law
Labour and Employment Law
Privacy and Data Security Law
Workers' Compensation Law
Firm News & Media
Related Articles
Recent News
Office Locations
Canada
Canada
British Columbia
British Columbia
Vancouver, BC
Bentall 5, 14th Floor
550 Burrard Street
Vancouver, BC V6C 2B5
Canada