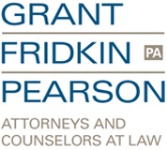 Firm Details
Grant Fridkin Pearson, P.A. was established in 1995 by lawyers who had practiced together in a high profile Miami based law firm by the name of Mershon, Sawyer, Johnson, Dunwody & Cole. We are organized into three practice groups: transactional real estate and business services; litigation and dispute resolution services; and trust and estate planning and administration services. Each area is led by a lawyer who is board certified by The Florida Bar in that area of practice and each of our lawyers practice in one, if not more, of those areas and limits his or her practice accordingly. Our senior lawyers work closely to mentor and train others and we encourage regular continuing professional education. We seek client engagements that are not ordinary or routine and that require experienced problem solving skills. We are privileged to serve some of the most prominent and substantial individual and business clients in Florida. When handling a client matter we call on the breadth and depth of our practice groups to ensure that we maintain the client relationship and efficiently use the skill and experience necessary to best serve the client.
Many of our lawyers have been recognized with an AV rating from Martindale Hubbell and have been recognized in The Best Lawyers in America, Florida Super Lawyers and Florida Trend. We use paralegals and a trained support staff to enable our lawyers to do those things that require a lawyer's skills and provide efficient and value-added service to our clients. All legal matters are handled by a lawyer who is responsible to the client for insuring that we perform our services as agreed.
Our lawyers are involved in professional, community, and civic organizations regularly serving in leadership positions. We believe in working to improve the professionalism of our lawyers, the bar as a whole, and in giving our time, skill, talents, and some of our earnings back to the communities that we serve and in which we live.
Mission Statement
Our mission is to be regarded as the preferred law firm in Southwest Florida for individual and business clients with complex and challenging legal needs in the increasingly sophisticated and diverse Southwest Florida community. Our vision is to continually build our practice by expanding and developing our own areas of expertise and relationships with others outside of our firm, as needed, so that we can best serve the needs of our clients and those who wish to engage us.
Management
Top Listed City Awards
Top Listed in Naples in Litigation - Trusts and Estates with 5 lawyers
Contacts
Firm Practice Areas
Antitrust Law
Appellate Practice
Arbitration
Commercial Litigation
Commercial Transactions / UCC Law
Community Association Law
Construction Law
Copyright Law
Corporate Compliance Law
Corporate Governance Law
Corporate Law
Economic Development Law
Elder Law
Electronic Discovery and Information Management Law
Eminent Domain and Condemnation Law
Employment Law - Individuals
Employment Law - Management
Ethics and Professional Responsibility Law
First Amendment Law
Government Contracts
Land Use and Zoning Law
Legal Malpractice Law - Defendants
Legal Malpractice Law - Plaintiffs
Leisure and Hospitality Law
Litigation - Antitrust
Litigation - Banking and Finance
Litigation - Construction
Litigation - Environmental
Litigation - ERISA
Litigation - First Amendment
Litigation - Health Care
Litigation - Insurance
Litigation - Intellectual Property
Litigation - Labor and Employment
Litigation - Land Use and Zoning
Litigation - Real Estate
Litigation - Securities
Litigation - Trusts and Estates
Litigation and Controversy - Tax
Mediation
Mergers and Acquisitions Law
Mortgage Banking Foreclosure Law
Project Finance Law
Real Estate Law
Tax Law
Trade Secrets Law
Trusts and Estates
Water Law