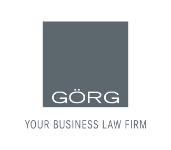 Firm Details
GÖRG is one of Germany's leading business law firms. As an independent law firm with more than 300 lawyers and tax advisors, GÖRG advises well-known domestic and foreign businesses from all areas of industry, banking, real estate, trade, media and services on all core areas of business law. GÖRG achieves top rankings and client references for its work in corporate law, real estate and insolvency/restructuring, among other fields. All teams have proven expertise with transactions and project development.
With five offices throughout Germany, clients are guaranteed local and personal advice – no matter where they are. In addition, the partner-oriented approach means that a fully informed contact person is available at all times. Tailor-made solutions are what clients expect from GÖRG – and what they get. The partners are involved in every single assignment, applying a wealth of experience to develop unique solutions that also succeed where more conventional thinking reaches its limits. The matters clients retain GÖRG for cover all aspects of business law. To meet this challenge the firm has created distinct practice groups with experienced specialists in each particular field.
Close cooperation between groups of experts across different offices allows GÖRG to offer a unique combination of specialist skills and teamwork that characterises the high quality of its work. The firm is always committed to its clients' success and its accumulated knowledge can be accessed by the individual lawyer and the team alike. Since many of the firm's projects have an international element, GÖRG regularly teams up with leading law firms in other countries, with whom GÖRG has developed strong links. A further advantage of GÖRG'S independent status is the fact that it can precisely deliver the right kind of international expertise that is needed for the case at Hand.
Law Firm of the Year Awards
Restructuring and Insolvency Law in Germany (2021)
Restructuring and Insolvency Law in Germany (2018)
Restructuring and Insolvency Law in Germany (2016)
Top Listed National Awards
Top Listed in Germany in Restructuring and Insolvency Law with 26 lawyers
Top Listed City Awards
Top Listed in Cologne with 28 lawyers
Top Listed in Cologne in Restructuring and Insolvency Law with 9 lawyers
Awards
Named the top law firm for corporate and labour law - WirtschaftsWoche top law firms, 2019
Named the top business law firm in Germany - FOCUS top lawyers special issue, 2018
Named the Law Firm of the Year 2018 for the region of Hessen - JUVE Awards, 2018
Named the "Law Firm of the Year 2017" for restructuring - Best Lawyers / Handelsblatt ranking, 2017
Contacts
"Law Firm of the Year"
Görg Partnerschaft von Rechtsanwälten mbB has received the following "Law Firm of the Year" accolades. Only one firm in a practice area is awarded this top honor each year:
Germany's "Law Firm of the Year" awards:

Restructuring and Insolvency Law - 2021
Restructuring and Insolvency Law - 2018
Restructuring and Insolvency Law - 2016
Firm Practice Areas
Arbitration and Mediation
Asset Finance Law
Banking and Finance Law
Biotechnology Law and Life Sciences Practice
Capital Markets Law
Competition / Antitrust Law
Construction Law
Corporate Law
Data Security and Privacy Law
Energy Law
Environmental Law
Financial Institutions
Health Care Law
Information Technology Law
Insurance Law
Intellectual Property Law
International Arbitration
Investment
Investment Funds
Labor and Employment Law
Litigation
Media Law
Mergers and Acquisitions Law
Outsourcing
Pharmaceuticals Law
Private Equity Law
Product Liability Litigation
Project Finance and Development Practice
Public Finance Law
Public Law
Public Private Partnership
Real Estate Law
Regulatory Practice
Sports Law
Tax Law
Technology Law
Telecommunications Law
Trade Law
Transportation Law
Venture Capital Law