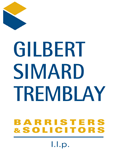 1200 avenue McGill College, bureau 1800
Montréal, QC H3B 4G7
Canada
514-394-2700
Firm Details
Established in 1999, Gilbert Simard Tremblay is a leading boutique firm based in Montreal, Canada. Once part of a larger structure, our firm founders sought to privilege a more flexible business model based on professional and effective representation. Our firm is large enough to provide a range of skills and experience, yet small enough to offer all of the flexibility and the attention our clients require.
Our team is dedicated to assisting clients in identifying and assessing their specific needs, tailoring the appropriate course of action while providing high quality services.
We deal with Commercial Litigation in general and have developed a particular expertise in Insurance and Construction matters. We represent numerous General Contractors, multiple Insurance companies and Professional Liability Funds. Our members appear before all of the Quebec Courts, including the Federal Court and the Supreme Court of Canada.
Management
Demographics
Non-Legal Employees
Men: 15
About Our Clients
Engineering Firms, General Contractors, Insurance and Bond companies, Professionnal Liability Insurance Funds, Professionnal Orders, etc.
Firm Practice Areas
Class Action Litigation
Construction Law
Director and Officer Liability Practice
Insurance Law
Legal Malpractice Law
Personal Injury Litigation
Product Liability Law
Office Locations
Canada
Canada
Quebec
Quebec
Montréal, QC
1200 avenue McGill College, bureau 1800
Montréal, QC H3B 4G7
Canada