Firm Profile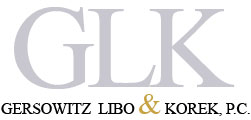 111 Broadway, 12th Floor, Suite 1204
New York, NY 10006
United States
(212) 385.4410
Firm Details
Recognized as one of the leading personal injury law firms in the area, Gersowitz Libo & Korek, P.C. has recovered hundreds of millions of dollars for our clients' personal injury claims in New York and New Jersey.

In order to give our clients the best representation possible, we are very selective in the cases we handle. Once you become a client, you can count on us to not only aggressively pursue your case but also to advance all costs and expenses associated with your lawsuit.

That means you don't pay a dime unless we win your case.

Find out more about our attorneys: Edward H. Gersowitz, Andrew L. Libo, Jeff S. Korek, Michael A. Fruhling, Brielle C. Goldfaden and Nicolas Bagley.
Management
Awards
Best Lawyers
Super Lawyers
Best Lawyers
Best Lawyers
Best Lawyers
Best Lawyers
Best Lawyers
US News & World Report
US News & World Report
Martindale Hubbel AV Rating
Martindale Hubbel AV Rating
Martindale Hubbel AV Rating
Martindale Hubbel AV Rating
Martindale Hubbel AV Rating
Martindale Hubbel AV Rating
Super Lawyers
Super Lawyers
Super Lawyers
Super Lawyers
Super Lawyers
Super Lawyers
Best Lawyers
US News & World Report
US News & World Report
US News & World Report
US News & World Report
US News & World Report
Martindale Hubbel AV Rating
Clients
We have and continue to represent high profile individuals
Firm Practice Areas
Environmental Law
Medical Malpractice Law - Plaintiffs
Personal Injury Litigation - Plaintiffs
Office Locations
United States
United States
New York
New York
New York, NY
111 Broadway, 12th Floor, Suite 1204
New York, NY 10006
United States