Firm Profile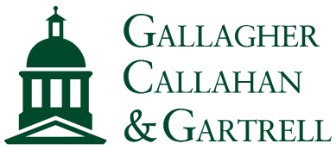 Gallagher, Callahan & Gartrell, PC

Firm Details
WHO WE ARE
Gallagher, Callahan & Gartrell is a leading business and litigation law firm, located in Concord, New Hampshire, with the experience, connectivity and analytical capabilities to tackle the most sophisticated issues confronting businesses in today's economy.

WHO WE REPRESENT
We represent local, regional, national and multi-national businesses, as well as non-profits, municipalities and individuals. We pride ourselves on being part of each client's strategic solution by offering value-added counsel to help shape their success. At Gallagher, Callahan & Gartrell, "Shaping Success" is not just a slogan, it's our goal in serving our clients.

WHY WE'RE DIFFERENT
Through our multidisciplinary approach and use of technology, we create efficient, effective customer-driven solutions. By combining legal, legislative, economic, compliance, human resources and communications specialists, we help our clients design evolving strategies for success in a complex business environment.
Management
Demographics
Partners
Women: 3
Men: 9
Caucasian: 12
Of Counsel
Men: 1
Caucasian: 1
Associates
Women: 1
Men: 1
Caucasian: 2
Management / Department Heads
Women: 2
Men: 3
Caucasian: 5
Paralegals
Women: 2
Caucasian: 2
Non-Legal Employees
Women: 9
Men: 2
Caucasian: 11
Awards
Gender Equality Committee Certificate of Completion
Clients
America's Health Insurance Plans
Boston Sand and Gravel
Chubb Insurance
Citizens Bank
Demoulas Supermarkets, Inc.
Federal Express
First American Title Company
Home Builders and Remodelers Association of NH
MEMIC
National Indemnity Companies
NH Bankers Association
Northeast Utilities / Public Service of NH
Progressive Insurance Company
The Hartford Insurance Companies
Vacation Resorts International
About Our Clients
REPRESENTATIVE FIRM CLIENTS

BJ's Wholesale Club
Boston Sand & Gravel
Chubb Insurance
Citizens Bank
Concord-Merrimack County SPCA
Demoulas Supermarkets, Inc.
Federal Express
First American Title Company
Home Builders & Remodelers Association of NH
MEMIC
National Indemnity Companies
NH Bankers Association
Northeast Utilities / Public Service of New Hampshire
Pillsbury Realty Development, LLC
Primex Insurance Company
The Hartford Insurance Companies
Vacation Resorts International
Firm Practice Areas
Administrative / Regulatory Law
Appellate Practice
Arbitration
Banking and Finance Law
Business Organizations (including LLCs and Partnerships)
Civil Rights Law
Closely Held Companies and Family Businesses Law
Commercial Litigation
Commercial Transactions / UCC Law
Construction Law
Corporate Compliance Law
Corporate Governance Law
Corporate Law
Employee Benefits (ERISA) Law
Employment Law - Management
Energy Law
Energy Regulatory Law
Entertainment Law - Motion Pictures and Television
Entertainment Law - Music
Environmental Law
Family Law
Financial Services Regulation Law
Government Relations Practice
Insurance Law
Land Use and Zoning Law
Leisure and Hospitality Law
Litigation - Banking and Finance
Litigation - Construction
Litigation - Environmental
Litigation - Insurance
Litigation - Intellectual Property
Litigation - Labor and Employment
Litigation - Land Use and Zoning
Litigation - Municipal
Litigation - Real Estate
Mediation
Municipal Law
Natural Resources Law
Personal Injury Litigation - Defendants
Product Liability Litigation - Defendants
Real Estate Law
Securities / Capital Markets Law
Tax Law
Trademark Law
Trusts and Estates
Utilities Law
Venture Capital Law
Office Locations
United States
United States
New Hampshire
New Hampshire
Concord, NH
214 North Main Street
Concord, NH 03301
United States