Firm Profile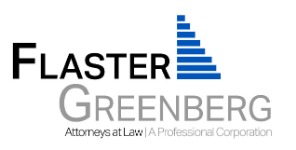 Headquarters
Commerce Center
1810 Chapel Avenue West
Cherry Hill, NJ 08002
United States
(856) 661.1900
Firm Details
Flaster Greenberg PC is a full-service, commercial business law firm serving clients across a range of industries in the public, private, government and nonprofit sectors. Our offices in New Jersey, New York, Pennsylvania and Delaware are strategically located within the mid-Atlantic corridor in close geographic proximity to the hubs of business, industry and government. In 2018, the firm expanded its footprint into South Florida with the opening of the Boca Raton office.
Our clients include companies in all stages of growth and development as well as individuals, from entrepreneurs and start-ups to established family businesses and large Fortune 500 corporations. Having evolved from a two-attorney tax boutique in the 1970s into a mid-sized commercial law firm, our reputation as a formidable alternative to mega national and international legal service providers has fueled our growth.
Businesses including technology companies, manufacturers, commercial real estate developers, healthcare providers, and others as well as individuals increasingly seek our counsel. As the world around us continues to change, we proactively respond by broadening the depth of our practice areas and recommitting ourselves to our clients' success. Flaster Greenberg attorneys value innovative thinking and practical solutions as cornerstones of the success that lies in achieving the best possible results for our clients.
Recognized as a top mid-size law firm by the National Law Journal, our attorneys are graduates from top-tier law schools including Harvard, Yale, Columbia, Georgetown and the University of Pennsylvania and have practiced at nationally-esteemed Am Law 100 and 200 firms. Many of our attorneys are nationally recognized for their work, and all of our attorneys focus on meeting the goals of their clients, working as a strategic partner and trusted business advisor.
Awards
Ranked in Chambers and Partners USA: America's Leading Lawyers for Business
Honored with both national and metropolitan rankings U.S. News & World Report and Best Lawyers in their annual "Best Law Firms" list
Awarded a firm wide overall AV rating from Martindale-Hubbell. An AV rating demonstrates the highest professional ability and adherence to ethical standards. Additionally, over 50 percent of our shareholders are individually ranked AV & AE Preeminent
Nominated as among the leading practitioners in their field for inclusion in Best Lawyers in America, Chambers & Partners USA, Who's Who in American Law, Super Lawyers & Rising Stars, World Trademark Review 1000
Selected by The National Law Journal as just one of the 20 law firms named to its 2013 Midsize Hot List
The firm's Business and Corporate Department was honored with the "New Jersey Dealmakers of the Year" award issued by the New Jersey Law Journal or its active Mergers & Acquisitions practice.
Firm Practice Areas
Aviation Law
Banking and Finance Law
Bankruptcy and Creditor Debtor Rights / Insolvency and Reorganization Law
Closely Held Companies and Family Businesses Law
Commercial Litigation
Copyright Law
Corporate Governance Law
Corporate Law
Employment Law - Individuals
Employment Law - Management
Energy Law
Family Law
Gaming Law
Health Care Law
Insurance Law
Litigation - Banking and Finance
Litigation - Bankruptcy
Litigation - Environmental
Litigation - Health Care
Litigation - Intellectual Property
Litigation - Labor and Employment
Litigation - Land Use and Zoning
Litigation - Real Estate
Litigation - Securities
Litigation - Trusts and Estates
Litigation and Controversy - Tax
Mergers and Acquisitions Law
Oil and Gas Law
Patent
Patent Law
Privacy and Data Security Law
Real Estate Law
Securities Regulation
Tax Law
Trademark Law
Trusts and Estates
Venture Capital Law
Workers' Compensation Law - Employers
Office Locations
United States
United States
Delaware
Delaware
Wilmington, DE
1007 North Orange Street, Suite 400
Wilmington, DE 19801
United States
Florida
Florida
Boca Raton, FL
1200 North Federal Highway, Suite 312
Boca Raton, FL 33432
United States
New Jersey
New Jersey
Cherry Hill, NJ
Commerce Center
1810 Chapel Avenue West
Cherry Hill, NJ 08002
United States
Linwood, NJ
646 Ocean Heights Avenue
Linwood, NJ 08221
United States
New York
New York
New York, NY
295 Madison Avenue, Twelfth Floor
New York, NY 10017
United States
Pennsylvania
Pennsylvania
Conshohocken, PA
West Conshohocken
One Tower Bridge
100 Front Street, Suite 100
Conshohocken, PA 19428
United States
Jenkintown, PA
261 Old York Road, Suite 200
Jenkintown, PA 19046
United States
Philadelphia, PA
1835 Market Street, Suite 1050
Philadelphia, PA 19103
United States