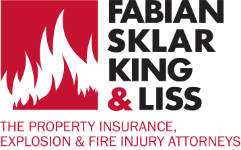 33450 West Twelve Mile Road
Farmington Hills, MI 48331
United States
248-553-2000
Firm Details
Founded in 1986, Fabian, Sklar & King, P.C., is a leader in representing homeowners and business owners in fire, explosion and property damage cases and people who have suffered serious personal injury or death from fires or explosions. We are honored to have received the prestigious AV® certification mark, the highest rating under Martindale Hubbell's Peer Review Rating™ process, which recognizes law firms possessing the highest professional and ethical standards.

Since the firm's beginnings, our mission has been to advocate and protect the rights of homeowners, business owners and other policyholders in disputes against insurance companies following disasters. We have successfully handled thousands of property damage claims caused by fires, explosions, windstorms, water and other insured perils, either by negotiating favorable settlements with insurance companies or by obtaining favorable jury verdicts through litigation.

Armed with our expertise in fire liability and explosion cases, we protect those who have been affected by fire or explosion incidents and have collected millions of dollars for clients who were denied their right to full compensation after disasters. Our expertise allows us to effectively and successfully represent clients who have been wrongfully accused of arson and fraud, and we have recovered millions of dollars in fire injury and death cases and products liability litigation. Recently, we recovered $21 million for the children of a couple who were killed in a propane gas explosion.

We have handled claims throughout Michigan and across the United States involving water loss and property damage resulting from windstorms, tornado damage and other natural disasters.

With more than 100 years of collective legal experience, we have cultivated relationships with industry-leading organizations, which regularly call upon our attorneys to conduct educational seminars on property insurance and fire and explosion litigation-related issues.
About Our Clients
House explosion, Royal Oak, Michigan. Represented the estate of a homeowner killed in a natural gas explosion. Settlement amount confidential.

$21 million to the children of a couple killed in a propane gas explosion.

Franks Furniture Store Explosion, Wayne, Michigan. Represented estates of two employees killed in a natural gas explosion. Settlement amount confidential.

$25 million dollar (estimated) recovery for policyholders in class action lawsuit based on insurer's failure to properly calculate claims.

$1.24 million recovery on bowling alley fire after insurance company failed to pay claim.

$1.1 million additional recovery for manufacturer of extruded foam products when insurance company would only pay $330,000.

$1.3 million additional payment to homeowner for damages after insurer determined liability at $3.4 million for luxury home fire.

$2.75 million after a week of trial involving a death of a homeowner from an explosion.

$1.6 million for the death of a teenager in a natural gas explosion.

$5 million from property insurance company for damage to warehouse.

$10 million for personal injuries suffered in gas explosion.

$1.3 million jury verdict for business owner due to insurance agent negligence regarding fire insurance policy.

$875,000 for the deaths of two children killed in a fire due to landlord's failure to have properly working smoke alarms.

$1.2 million for two children killed in a fire caused by a defective product.

$4 million from property insurance company for fire damage to a bowling complex.

$750,000 from insurance company due to wrongful denial of fire insurance claim.

$2.2 million for damage to apartment complex due to ice/water damage.

$2 million judgment for grocery store owner against insurance company that denied liability for roof collapse.
Firm Practice Areas
Insurance Law
Personal Injury Litigation - Plaintiffs
Office Locations
United States
United States
Michigan
Michigan
Farmington Hills, MI
33450 West Twelve Mile Road
Farmington Hills, MI 48331
United States