Firm Profile
Firm Details
Desde 1885, Estudio Carvallo viene desarrollando un ejercicio profesional especializado y con sello propio. Nos enfocamos en dar a nuestros clientes soluciones efectivas, concretas e innovadoras, sobre la base del trabajo en equipo, el pensamiento estratégico y las buenas prácticas.
Since 1885, Estudio Carvallo has been developing specialized professional services within its areas of expertise. We have focused in providing our clients with effective and innovative solutions based upon teamwork, strategic thinking and practice.
"Law Firm of the Year"
Estudio Carvallo is a firm with over 130 years in the field is going to create some high expectations.  In 2019, the firm was name "Law Firm of the Year" in Chile for Insurance Law. According to the firm, "this is one of the traditional areas developed by our firm with special and well-known leadership over the last decades. We have expertise and capability to provide the highest quality service to both the local and foreign insurance market.We provide advice to insurers, reinsurers and brokers in different matters including the drafting of insurance policies, agreements, coverage analysis, legal defense of insurers and development of affinity insurance products, among others.We also perform administrative actions for registering entities relating to the Insurance business that are supervised by the relevant controlling entity."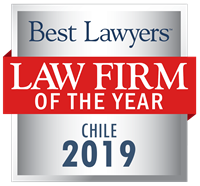 Insurance Law
In an interview with Best Lawyers CEO Phillip Greer, 
Manuel Carvallo
 Partner and Managing Director discusses his firm's 2019 "Law Firm of the Year" award for Insurance Law; his best advice for client service; the changes coming to Chilean consumer practice; and navigating Estudio Carvallo's century-long history of success.
Read more here.
Office Locations
Chile
Chile
Concepción, Chile
Bernardo O'Higgins 420, Oficina 81
Concepción
Chile
56 41 225 4045
Santiago, Chile
Coyancura 2283, Piso 11
Providencia
Santiago
Chile
56 2 2676 9355
Viña del Mar, Chile
Libertad 798, Oficina 703
Viña del Mar
Chile
56 32 297 9334