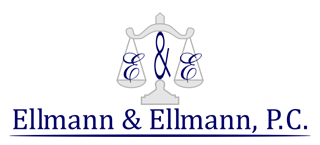 Firm Details
Ellmann & Ellmann, P.C. is a Castle Rock Colorado Law Firm successfully handling Criminal Defense, Family Law, Estate Planning and Probate matters. We offer our experience, compassion, and confidentiality to every client we represent.
Being convicted of a felony or misdemeanor is a mark on your record that will follow you wherever you go. Many of those charged feel that the only way for the matter to go away is to plead guilty immediately. You have options and rights. You need a law firm that will perform a detailed investigation of the procedures involved to make sure your rights were not violated. Our Colorado Lawyers have handled cases regarding charges for all levels of crimes in State, County, and Municipal Courts throughout the state.
Family law matters require not only experience, but a certain level of delicacy and sensitivity. When a child's interest is at stake during a divorce or custody-related issue, the focus should be on the future relationships within the family. Those looking to add on to their family also need a lawyer who can explain the process and maintain open lines of communication to successfully facilitate an adoption.
Managing Partner Kevin T. Ellmann established this law firm following many years as a Senior Deputy District Attorney in the 18th Judicial District covering Arapahoe, Douglas, Elbert, and Lincoln counties. He has successfully handled many criminal cases, including DUI. He brings a unique perspective from his time spent as a Senior Deputy DA, as well as solid relationships with municipal county and district court prosecutors.
Martina D. Ellmann has worked in private practice and served as Assistant Regional Counsel for the Social Security Administration. Her work includes strong representation in family law matters, including divorce, custody issues, and adoption. You can count on her to bring both passion for the law and compassion for families dealing with life-changing issues.
Awards
Best Lawyers in America DUI Defense - 2018 - present
AVVO 10.0 Rated - Kevin Ellmann
SuperLawyers Rated - Kevin Ellmann
Contacts
Kevin Ellmann
President
303-814-2600
Firm Practice Areas
Collaborative Law: Family Law
Criminal Defense: General Practice
Criminal Defense: White-Collar
Family Law
Family Law Mediation
Trusts and Estates
Office Locations
United States
United States
Colorado
Colorado
Castle Rock, CO
333 Perry Street, Suite 309
Castle Rock, CO 80104
United States