Firm Profile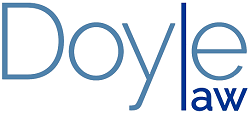 Firm Details
Doyle Law was established in 2019 and offers business, employment, and family based immigration services to clients all over the world. It is a successor of Jean Padberg & Associates, P.C., and Jean Padberg is now Of Counsel to Doyle Law.
Our mission is to guide our clients through the immigration process. We do that by providing and implementing a customized immigration plan for every client so that they accomplish their immigration goals in the United States. We believe that every client is important and want to provide the best service to each one.
About the Owner:
Audra Medders Doyle received her law degree from the Georgia State University College of Law (J.D.) in 2007. Prior to opening her firm, Mrs. Doyle was a Senior Attorney at Jean Padberg & Associates where she handled business, employment, and family-based U.S. immigration matters. She is a member of the Georgia Bar Association and the American Immigration Lawyers Association (AILA). She is a recipient of the AILA Pro Bono Champion Award and is a National AILA Mentor for Naturalization and Citizenship issues. Related to her membership in the Georgia-Alabama Chapter of the American Immigration Lawyers Association, Mrs. Doyle is currently the Vice-Chair of the Military Assistance Program Committee (Past Chair, yearly participant/speaker at the Ft. Stewart and Ft. Gordon Immigration Fairs, and JAG Mentor). Previously she has served on the USCIS, CBP, and Chapter Website Committees. In addition, she is a past Board Member of the Atlanta Bar Association's International Law and Immigration Section. Mrs. Doyle has been a speaker at immigration-related seminars in Georgia and Alabama, and also regularly co-hosts a radio show at WCEG Talk Radio.
During law school, Mrs. Doyle was a recipient of the Atlanta Law School Fellows Program Scholarship. She also studied abroad with the College of Law's Summer Academy in Rio de Janeiro, Brazil and participated in the College of Law's Low Income Taxpayer Clinic. Prior to becoming an Attorney, Mrs. Doyle was an Elementary Music Specialist in Dublin, Georgia and Watkinsville, Georgia. She received her undergraduate degree in Music Education – Instrumental Emphasis magna cum laude from Georgia Southern University (B.M. in 1999).
Management
Demographics
Partners
Women: 1
Caucasian: 1
Of Counsel
Women: 1
Caucasian: 1
Paralegals
Women: 1
African-American: 1
GLBT: 1
Men: 1
Caucasian: 2
Contacts
Office Locations
United States
United States
Georgia
Georgia
Atlanta, GA
3136 Clairmont Road, NE
Atlanta, GA 30329
United States