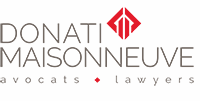 625, avenue du Président-Kennedy
Bureau 1111
Montréal, QC H3A 1K2
Canada
514-499-7477
Firm Details
Donati Maisonneuve was founded in 1999 by Me Pierre Donati and Me Roger Maisonneuve, following the liquidating of a large Montreal firm. The result was a boutique firm specializing in litigation and insurance, to which joined, in September 2002, a group of five lawyers specializing in litigation. This addition allowed the firm to grow its expertise in personal insurance and commercial litigation.
Recently, the firm jumped at the opportunity to consolidate its position as a leader in the fields of litigation, insurance and professional liability, by welcoming a team of seven lawyers specializing in these fields. The firm is now comprised of twenty-two lawyers specializing in various fields of civil and commercial litigation, more specifically in insurance law, access to information, construction, disciplinary law, professional liability, civil liability, directors and officers liability, manufacturers liability, copyright, banking law, securities, real estate law, bankruptcy and insolvency, and family law.

All of the attorneys of the firm posses solid backgrounds in their respective fields of practice, which is essential to its primary objective of offering its clients specialized high quality legal services, at affordable rates.

Donati Maisonneuve provides its clients with a specialized and efficient personalized service, the whole which reflects the personalities of the members of its team. The firm offers a more flexible organizational structure, better adapted to its clients, which are comprised of insurers, brokers, financial institutions, companies of all sizes, and individuals. This structure allows the firm to offer more personalized legal services at more advantageous costs.

Office Locations
Canada
Canada
Quebec
Quebec
Montréal, QC
625, avenue du Président-Kennedy
Bureau 1111
Montréal, QC H3A 1K2
Canada