Firm Profile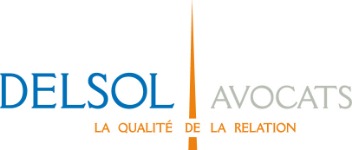 Firm Details
DELSOL Avocats is a law firm specializing in the numerous aspects of corporate life. It aims at meeting all legal and judicial requirements, both national and international.
DELSOL Avocats assists companies and organizations in their French and international transactions at all levels of risk, over the short, medium and long term.
It has organized its expertise into twelve practice areas:
DELSOL Avocats is an active member of two international networks (TELFA and PARLEX) and has therefore made strong connections with "best-friends" located in Europe as well as in the USA.
The firm has built on the proximity of his Lyons office with Italy to create an « Italian desk » and thus inject dynamism into its transalpine activities relying on several bilingual partners and associates.
Top Listed City Awards
Top Listed in Lyon in Tax Law with 5 lawyers
Clients
3M
Agora
Assystem
Avisa Partners
Crouzet
Descours & Cabaud
Dimotrans
EDF ENR
Goldenbees
Happy & So
Hellowork
Hesus
Hôpital Saint Joseph de Marseille
Ividata
Keranova
K-Santé
Leiblang Productions
Ligue Bretagne Handball
Mediaschool
Newfund
Olympique Lyonnais
Opéra Energie
Proactis
Radio ISA
Ribière
SunPower
Telegramme Group
Voestalpine
Firm Practice Areas
Administrative Law
Arbitration and Mediation
Asset Finance Law
Banking and Finance Law
Biotechnology and Life Sciences Practice
Competition / Antitrust Law
Construction Law
Corporate Law
Health Care Law
Information Technology Law
Insolvency and Reorganization Law
Intellectual Property Law
Labor and Employment Law
Leveraged Buyouts
Litigation
Mergers and Acquisitions Law
Privacy and Data Security Law
Private Equity Law
Product Liability Litigation
Public Law
Real Estate Law
Tax Law
Venture Capital Law
Office Locations
France
France
Lyon, France
11, quai André Lassagne
Lyon 69001
France
Paris, France
4 bis, rue du Colonel Moll
Paris 75017
France