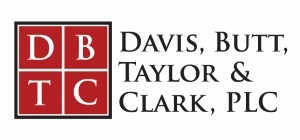 75 North East Avenue, Suite 402
P.O. Box 1224
Fayetteville, AR 72701-1224
United States
(479) 521.7600
Firm Details
The attorneys at Davis, Butt, Taylor & Clark, PLC have proudly offered a full range of legal services to their clients throughout the State of Arkansas for more than 60 years. Each of the members are preeminently rated by Martindale-Hubbell. The firm is listed in Best's Directory of Recommended Insurance Attorneys and Adjusters, two members are Fellows of the American College of Trial Lawyers, and three members are currently listed in Best Lawyers in America.

The firm engages in most general practice areas, representing a broad array of litigation and business clients ranging from local individuals and businesses to major insurance and Fortune 500 companies.

All firm members are admitted to practice before all Arkansas state and federal courts, as well the Eighth Circuit Court of Appeals.

Firm Practice Areas
Appellate Practice
Bet-the-Company Litigation
Commercial Litigation
Litigation - Bankruptcy
Litigation - Labor and Employment
Litigation - Real Estate
Litigation - Trusts and Estates
Medical Malpractice Law - Defendants
Personal Injury Litigation - Defendants
Trusts and Estates
Workers' Compensation Law - Employers
Office Locations
United States
United States
Arkansas
Arkansas
Fayetteville, AR
75 North East Avenue, Suite 402
P.O. Box 1224
Fayetteville, AR 72701-1224
United States