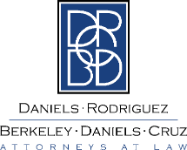 Headquarters
4000 Ponce de Leon Boulevard, Suite 800
Coral Gables, FL 33146
United States
(305) 448.7988
Firm Details
Founded in 1983, Daniels Rodriguez, Berkeley Daniels Cruz (formerly Daniels Kashtan) is a civil litigation firm with offices in Coral Gables (Miami), Fort Lauderdale and Tampa. The location and accessibility of our offices permit our lawyers to serve clients throughout the State of Florida. It is the goal of our firm to provide skilled and effective legal representation in targeted practice areas.

We have experienced litigation teams practicing in commercial litigation, construction law and litigation, professional liability and insurance defense litigation, and restructuring and bankruptcy matters. We represent all types of professionals, including but not limited to architects, engineers, attorneys, insurance agents, public officials and public entities. The firm represents clients in matters in State, Federal and Appellate Courts, administrative hearings before the State of Florida Department of Professional Regulation, and the Florida Bar, as well Arbitration proceedings in the American Arbitration Association.

The firm also represents businesses and individuals in a broad range of bankruptcy-related matters, such as claims administration, avoidance litigation, actions to except debts from discharge, actions to recharacterize debts, contested confirmation hearings and Section 363 sales. Additionally, we have significant experience in insurance coverage defense and defense of bad faith matters.

Awards
Chambers USA
Best Lawyers
Super Lawyers
Firm Practice Areas
Commercial Litigation
Construction Law
Litigation - Construction
Litigation - Real Estate