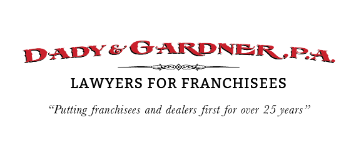 Dady & Gardner, P.A.

IDS Center, Suite 5100
80 South Eighth Street
Minneapolis, MN 55402
United States
(612) 359.9000
Firm Details
Dady & Gardner, P.A.
, limits its practice to the representation of franchisees, distributors, and dealers in disputes with their franchisors and suppliers. The firm practices nationwide and delivers the highest quality representation available. Dady & Gardner's lawyers have represented a wide array of clients, from quick-service restaurant franchisees to farm and industrial equipment distributors, and have successfully resolved disputes against more than 350 different franchise and supply systems. In appropriate cases, Dady & Gardner shares the risk of litigation with clients by making contingent fee arrangements or other alternatives to hourly billing.
Contacts
Shannon Banaszewski
Administrator
612-359-3510
Firm Practice Areas
Franchise Law
Personal Injury Litigation - Plaintiffs
Office Locations
United States
United States
Minnesota
Minnesota
Minneapolis, MN
IDS Center, Suite 5100
80 South Eighth Street
Minneapolis, MN 55402
United States