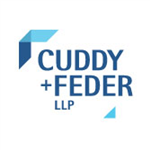 Headquarters
445 Hamilton Avenue, 14th Floor
White Plains, NY 10601
United States
(914) 761.1300
Firm Details
At Cuddy & Feder, ingenuity, thoughtfulness and insight have been the hallmarks of our law firm for more than 45 years. We pride ourselves on our reputation for quality, substantive ties to community leaders, stakeholders and decision-makers – built on the caliber of our work – and for bringing deep industry knowledge, compassion and experience to bear in service of our clients' goals. We're your strategic advisors, addressing not only your legal needs but your business and personal ones as well.
Our New York and Connecticut attorneys help local, regional, national and multi-national clients alike identify and implement nuanced solutions to complex legal challenges in the following key practice areas: Corporate Law; Energy & Environmental Law; Finance; Land Use, Zoning & Development; Litigation; Non-Profit Organizations; Real Estate Law; Telecommunications; and Trusts, Estates & Elder Law.
As a mid-sized law firm, our size is an invaluable asset. It makes us judicious in our hiring and our commitment to diversity and teamwork is truly reflected in our diverse, tight-knit team. It also offers our associates and overall staff greater exposure to sophisticated, challenging and varied work and opportunities for advancement.
Cuddy & Feder attorneys are routinely recognized by SuperLawyers, Martindale Hubbell and Best Lawyers for their contributions to the legal arena and, collectively, are considered thought leaders in their respective fields. We have headed bar associations, helmed influential trade organizations, published important legal and industry articles, lectured throughout the country, and regularly appear nationally and regionally. As a firm, Cuddy & Feder is listed among U.S. News' list of Best Law Firms.
We are much more than a Westchester law firm. With our principal office in White Plains, New York, our Hudson Valley office in Fishkill, New York, and offices in New York City and Stamford, Connecticut, Cuddy & Feder serves clients throughout the greater NYC-metro region, as well as Westchester, Dutchess, Putnam, Orange, Rockland, Ulster, Sullivan, Columbia and Fairfield Counties.
Management
Demographics
Partners
Women: 2
African-American: 1
Men: 14
Caucasian: 13
Of Counsel
Women: 1
Men: 2
Caucasian: 3
Associates
Women: 4
African-American: 2
Men: 9
Caucasian: 11
Other Lawyers
Women: 2
Men: 1
Caucasian: 3
Management / Department Heads
Women: 3
African-American: 2
Men: 10
Caucasian: 11
Paralegals
Women: 8
African-American: 1
Asian: 1
Hispanic: 1
Caucasian: 5
Non-Legal Employees
Women: 14
African-American: 4
Hispanic: 2
Men: 2
Caucasian: 10
Contacts
Ashley Steinberger
Marketing Specialist
914-761-1300
Firm Practice Areas
Business Organizations (including LLCs and Partnerships)
Commercial Litigation
Elder Law
Land Use and Zoning Law
Project Finance Law
Real Estate Law
Office Locations
United States
United States
Connecticut
Connecticut
Stamford, CT
733 Summer Street
Stamford, CT 06901
United States
New York
New York
Fishkill, NY
300 Westage Business Center, Suite 380
Fishkill, NY 12524
United States
White Plains, NY
445 Hamilton Avenue, 14th Floor
White Plains, NY 10601
United States