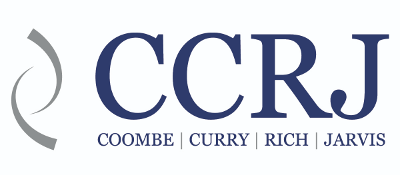 1660 Lincoln Street, Suite 2950
Denver, CO 80264
United States
(303) 529.7192
Firm Details
Coombe Curry Rich & Jarvis is a continuation of Markusson, Green & Jarvis, which was founded in 1984. Dennis Markusson, Jim Green, and Keith Jarvis led the firm for thirty years until they were joined by the next generation of partners, Dan Coombe, Jill Curry, and Gregg Rich. CCRJ has a fundamental commitment to providing first-rate legal services to our clients. We offer a broad range of experience in many areas of litigation, including construction defects and payment disputes, premises liability, products liability, toxic torts, commercial litigation, insurance coverage, general litigation, and appellate work. Our clients include insurance carriers and their insureds, local and national corporations, small business, and individuals in need of personal services such as employment counseling, commercial transactions, family law, and estate planning.
CCRJ is approved panel defense counsel for insurance carriers all over the country. We work closely with clients and their insurance carriers to provide cost-effective solutions that are successful and practical. We work with claim handlers to develop early litigation plans and budgets to ensure highly effective representation and client satisfaction. We strive to create long-lasting client relationships and build trust with those whom we represent.
CCRJ has added new talent over the years to expand the well-established civil litigation firm with business law, family law, and estate planning and probate practice groups. CCRJ has also added a second office in the Denver Tech Center area to better serve our clients in the south-metro area, including Aurora, Centennial, Englewood, Highlands Ranch, Castle Rock, Littleton, and Parker. CCRJ handles litigation throughout Colorado and our attorneys are licensed to practice in all Colorado courts as well as many others state and Federal district and appellate courts, including the United States Supreme Court.
Our attorneys' backgrounds are diverse, with many firm members maintaining an active trial practice in multiple jurisdictions. Our attorneys work in teams, allowing senior partners to mentor associates and offer effective, disciplined training while giving associates the opportunity to hone their skills in critical case work in a cost-efficient manner.
CCRJ is a strong supporter of Alternative Dispute Resolution as a method of minimizing both the costs of litigation and its inherent risks. Our firm uses ADR to achieve positive results and satisfying outcomes for our clients. We have developed positive relationships and good reputations with mediators and arbitrators within the Colorado legal community. Additionally, the diversity of our practice and our clients' complex needs has resulted in our developing a wide variety of experts and consultants upon whom we can call to help serve our clients, hand-picking experts who are best suited to each client's specific legal matter.
CCRJ and several of its members have received an AV rating, the highest level of professional excellence, from Martindale Hubble and our attorneys consistently make Colorado's list of "Superlawyers."
Management
Demographics
Partners
Women: 1
Men: 2
Caucasian: 3
Associates
Women: 1
Men: 2
Other Lawyers
Women: 1
Men: 1
Management / Department Heads
Men: 1
Non-Legal Employees
Women: 3
Contacts
Jill A. Curry
Managing Partner
303-572-4200
Daniel R. Coombe
Partner
303-572-4200
Gregg S. Rich
Partner
303-572-4200
E.J Hubbell
Firm Administrator
303-572-4200
Firm Practice Areas
Family Law
Insurance Law
Litigation - Construction
Litigation - Insurance
Personal Injury Litigation - Defendants
Product Liability Litigation - Defendants
Trusts and Estates
Office Locations
United States
United States
Colorado
Colorado
Denver, CO
1660 Lincoln Street, Suite 2950
Denver, CO 80264
United States