Firm Profile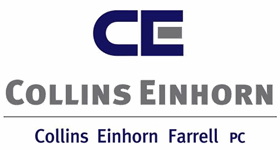 Collins Einhorn Farrell PC
4000 Town Center, Ninth Floor
Southfield, MI 48075-1408
United States
(248) 355.4141
Firm Details
A TRADITION OF EXCELLENCE
From the time of our founding in 1971, Collins Einhorn Farrell has been committed to providing clients with personalized, attentive and accessible service for their legal needs. This is the underlying philosophy behind our practice.

Our attorneys and support staff offer their expertise and experience in both a responsive and proactive manner to vigorously represent and protect our clients in a broad range of legal matters.

A HISTORY OF GROWTH AND SERVICE
Over the years, our firm has experienced steady growth and an ever-lengthening roster of satisfied clients, a testament to our competency and capability. However, we have kept this accomplishment in perspective and understand that the true measure of our success is how we serve and support our client's legal needs.

We specialize in a broad range of defense litigation, providing clients with expert legal representation in the insurance, real estate, manufacturing and professional fields.

We represent clients in trial and appellate matters in state and federal courts. Our many successes have led to our well-respected reputation in the legal community for achieving desired results through effective representation.

In addition to our extensive litigation practice, we counsel clients on a wide range of insurance coverage and other business-related issues.

We invite you to learn more about us, discuss your requirements with us and see how we can assist you with practical, creative and effective legal services and solutions. Our dedication to conscientious representation will continue throughout our relationship.
Top Listed State Awards
Top Listed in Michigan in Professional Malpractice Law - Defendants with 7 lawyers
Top Listed City Awards
Top Listed in Southfield in Legal Malpractice Law - Defendants with 5 lawyers
Top Listed in Southfield in Personal Injury Litigation - Defendants with 4 lawyers
Top Listed in Southfield in Product Liability Litigation - Defendants with 7 lawyers
Top Listed in Southfield in Professional Malpractice Law - Defendants with 7 lawyers
Awards
2015 Best Lawyers Metropolitan Tier 1 Rankings (Detroit) - Appellate Practice
2015 Best Lawyers Metropolitan Tier 1 Rankings (Detroit) - Insurance Law
2015 Best Lawyers Metropolitan Tier 1 Rankings (Detroit) - Legal Malpractice Law – Defendants
2015 Best Lawyers Metropolitan Tier 1 Rankings (Detroit) - Personal Injury Litigation – Defendants
2015 Best Lawyers Metropolitan Tier 1 Rankings (Detroit) - Product Liability Litigation – Defendants
2015 Best Lawyers Metropolitan Tier 1 Rankings (Detroit) - Professional Malpractice Law – Defendants
2016 Best Lawyers Metropolitan Tier 1 Rankings (Detroit) - Product Liability Litigation – Defendants
2016 Best Lawyers Metropolitan Tier 1 Rankings (Detroit) - Product Liability Litigation – Defendants
2016 Best Lawyers Metropolitan Tier 1 Rankings (Detroit) - Personal Injury Litigation – Defendants
2016 Best Lawyers Metropolitan Tier 1 Rankings (Detroit) - Legal Malpractice Law – Defendants
2016 Best Lawyers Metropolitan Tier 1 Rankings (Detroit) - Insurance Law
2016 Best Lawyers Metropolitan Tier 1 Rankings (Detroit) - Appellate Practice
2015 Best Lawyers Metropolitan Tier 2 Rankings (Detroit) - Ethics and Professional Responsibility Law
2015 Best Lawyers Metropolitan Tier 2 Rankings (Detroit) - Litigation – Labor and Employment
2014 Best Lawyers Metropolitan Tier 1 Rankings (Detroit) - Professional Malpractice Law - Defendants
2014 Best Lawyers Metropolitan Tier 1 Rankings (Detroit) - Product Liability Litigation – Defendants
2014 Best Lawyers Metropolitan Tier 1 Rankings (Detroit) - Personal Injury Litigation – Defendants
2014 Best Lawyers Metropolitan Tier 1 Rankings (Detroit) - Legal Malpractice Law – Defendants
2014 Best Lawyers Metropolitan Tier 1 Rankings (Detroit) - Insurance Law
2014 Best Lawyers Metropolitan Tier 1 Rankings (Detroit) - Ethics and Professional Responsibility Law
2014 Best Lawyers Metropolitan Tier 1 Rankings (Detroit) - Appellate Practice
2013 Best Lawyers National Rankings - Professional Malpractice Law - Defendants
2013 Best Lawyers Metropolitan Tier 1 Rankings (Detroit) - Ethics and Professional Responsibility Law
2013 Best Lawyers Metropolitan Tier 1 Rankings (Detroit) - Legal Malpractice Law – Defendants
2013 Best Lawyers Metropolitan Tier 1 Rankings (Detroit) - Professional Malpractice Law – Defendants
2013 Best Lawyers Metropolitan Tier 2 Rankings (Detroit) - Appellate Practice
2013 Best Lawyers Metropolitan Tier 2 Rankings (Detroit) - Product Liability Litigation – Defendants
2012 Best Lawyers Metropolitan Tier 1 Rankings (Detroit) - Appellate Practice
2012 Best Lawyers Metropolitan Tier 1 Rankings (Detroit) - Legal Malpractice Law - Defendants
2012 Best Lawyers Metropolitan Tier 1 Rankings (Detroit) - Professional Malpractice Law - Defendants
2012 Best Lawyers Metropolitan Tier 2 Rankings (Detroit) - Ethics and Professional Responsibility Law
2012 Best Lawyers Metropolitan Tier 2 Rankings (Detroit) - Product Liability Litigation - Defendants
2011 Best Lawyers Metropolitan Tier 2 Rankings (Detroit) - Product Liability Litigation - Defendants
2011 Best Lawyers Metropolitan Tier 2 Rankings (Detroit) - Ethics and Professional Responsibility Law
2011 Best Lawyers Metropolitan Tier 1 Rankings (Detroit) - Appellate Practice
2011 Best Lawyers Metropolitan Tier 1 Rankings (Detroit) - Legal Malpractice Law - Defendants
2011 Best Lawyers Metropolitan Tier 1 Rankings (Detroit) - Professional Malpractice Law - Defendants
2011 Best Lawyers Metropolitan Tier 2 Rankings (Detroit) - Ethics and Professional Responsibility Law
2011 Best Lawyers Metropolitan Tier 2 Rankings (Detroit) - Product Liability Litigation - Defendants
2010 Best Lawyers Metropolitan Tier 2 Rankings (Detroit) - Product Liability Litigation - Defendants
2010 Best Lawyers Metropolitan Tier 1 Rankings (Detroit) - Professional Malpractice Law – Defendants
Inaugural listing of Martindale Hubbell's Top Ranked Law Firms
2012 AM Best's Client Recommended Insurance Attorneys
2013 AM Best's Client Recommended Insurance Attorneys
2014 AM Best's Client Recommended Insurance Attorneys
2015 AM Best's Client Recommended Insurance Attorneys
21st Century Innovators Award – Michigan Lawyers Weekly
Ranked a Top Michigan Top Mid Sized Litigation Firm (2011-2015)
Contacts
Cynthia Whitcomb
Executive Director
(248) 351-5421
Firm Practice Areas
Appellate Practice
Commercial Litigation
Employment Law - Management
Ethics and Professional Responsibility Law
Insurance Coverage
Insurance Law
Legal Malpractice Law - Defendants
Litigation - Labor and Employment
Mass Tort Litigation / Class Actions - Defendants
Medical Malpractice Law - Defendants
Personal Injury Litigation - Defendants
Product Liability Litigation - Defendants
Professional Malpractice Law - Defendants
Transportation Law
Office Locations
United States
United States
Michigan
Michigan
Southfield, MI
4000 Town Center, Ninth Floor
Southfield, MI 48075-1408
United States