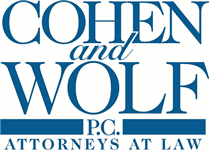 Cohen and Wolf, P.C.
Headquarters
1115 Broad Street
Bridgeport, CT 06604
United States
(203) 368.0211
Firm Details
Cohen and Wolf celebrated its 60th anniversary in 2011. The firm began in 1951 with two lawyers, Herbert L. Cohen and Austin K. Wolf, working from a single office in Bridgeport. Since then, the firm has expanded to more than50 attorneys with offices in Bridgeport, Danbury, Westport and Orange. Attorneys at Cohen and Wolf represent a diverse assortment of individuals, businesses and municipalities, handling their personal and professional legal needs, from matters involving litigation, employment, corporate and securities law, commercial lending, real estate, land use and zoning, to family law and estate planning. Additional information is available at
www.cohenandwolf.com
.
Top Listed State Awards
Top Listed in Connecticut in Real Estate Law with 6 lawyers
Top Listed City Awards
Top Listed in Danbury with 4 lawyers
Top Listed in Bridgeport in Family Law with 4 lawyers
Top Listed in Bridgeport in Real Estate Law with 5 lawyers
Awards
Chambers USA recognized Healthcare, Litigation, Real Estate and Employment & Labor in CT
Sixteen Lawyers Recognized as Best Lawyers
Benchmark (Litigation, Plaintiff and Appellate) - "highly recommended"
Seventeen Lawyers Recognized as Best Lawyers
Firm Practice Areas
Appellate Practice
Banking and Finance Law
Commercial Litigation
Elder Law
Employment Law - Individuals
Employment Law - Management
Family Law
Insurance Law
Land Use and Zoning Law
Litigation - Labor and Employment
Litigation - Land Use and Zoning
Litigation - Securities
Municipal Law
Real Estate Law
Securities / Capital Markets Law
Securities Regulation
Tax Law
Trusts and Estates