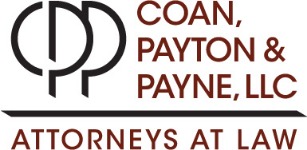 Coan, Payton & Payne, LLC
Firm Details
Coan, Payton & Payne, LLC exists to empower the success of our clients, our team and our communities by providing exceptional legal and consulting services.
We are a team of highly-trusted professionals organized to provide world-class legal services in business, real estate and estate planning.
CP2 is more than a business, a law firm or a group of attorneys. We are a catalyst that empowers your success.
We believe in a culture of high performance and providing better opportunities for success in life and business. Our clients know us as their most trusted advisers and advocates.
To learn more, please visit our website at www.cp2law.com
Awards
2018 Best Lawyers - Best Law Firm
2017 Best Law Firm - Business Connect
2017 Best Lawyers - Best Law Firm
2016 Top Ranked Law Firms - ALM
2016 Best Lawyers - Best Law Firm
2015 Best Lawyers - Best Law Firm
Contacts
Firm Practice Areas
Agriculture Law
Aviation Law
Banking and Finance Law
Bankruptcy and Creditor Debtor Rights / Insolvency and Reorganization Law
Business Organizations (including LLCs and Partnerships)
Commercial Finance Law
Commercial Litigation
Commercial Transactions / UCC Law
Corporate Law
Employment Law - Management
Energy Law
Insurance Law
Land Use and Zoning Law
Litigation - Banking and Finance
Litigation - Construction
Litigation - Insurance
Litigation - Intellectual Property
Litigation - Land Use and Zoning
Litigation - Mergers and Acquisitions
Litigation - Municipal
Litigation - Real Estate
Litigation - Trusts and Estates
Litigation and Controversy - Tax
Mediation
Mergers and Acquisitions Law
Mortgage Banking Foreclosure Law
Municipal Law
Natural Resources Law
Oil and Gas Law
Railroad Law
Real Estate Law
Tax Law
Technology Law
Trademark Law
Trusts and Estates
Office Locations
United States
United States
Colorado
Colorado
Denver, CO
South Tower, Suite S-1500
999 Eighteenth Street
Denver, CO 80202
United States
Fort Collins, CO
103 West Mountain Avenue, Suite 200
Fort Collins, CO 80524
United States
Greeley, CO
1711 Sixty-First Avenue, Suite 100
Greeley, CO 80634
United States