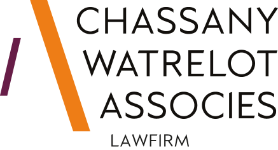 Firm Details
A FULL-EXPERTISE HUMAN RESOURCES LAWFIRM
Founded in 1987, Chassany Watrelot & Associés (CWA) is one of the main French law firms whose activity is exclusively dedicated to employment law and all other legal areas related to human resources management (insurance law, tax law…). Located in France (Paris, Lyon, and Marseille), Morocco (Casablanca, Tangier), Algeria (Algiers) and Tunisia (Tunis), Chassany Watrelot & Associés brings together about 70 specialized lawyers providing legal advice and representation during litigation before all courts of justice. Chassany Watrelot & Associés also develops and conducts professional training tailored to its clients' needs.
QUALITY \ EFFICENCY \ DEDICATION
Within the framework of large scale operations (restructurings, mergers & acquisitions, sales, outsourcing…) as well as in the daily management of human resources, Chassany Watrelot & Associés mobilizes all its expertise and resources, to provide customized, secure and operational solutions, taking into account all the requirements and time constraints of its clients and their business environment.
EXPERTISE \ HIGHEST STANDARDS \ FLEXIBILITY
Whether major national and international groups or SMEs, Chassany Watrelot & Associés' clients benefit both from the very personalized follow-up of a lawyer specifically dedicated to them, and from the expertise of the entire law firm through its highly technical hubs:
\ Employment collective relations
\ Compensation & profit sharing
\ Pensions & welfare protection
TAILORED ADVICE \ UNIQUE EXPERTISE
Firm Practice Areas
Employee Benefits Law
Labor and Employment Law
Litigation
Office Locations
France
France
Lyon, France
79 cours Vitton
Lyon, FR 69006
France
Marseille, France
1 Place Félix Baret
Marseille, FR 13006
France
Paris, France
8, rue Chateaubriand
Paris, FR 75008
France