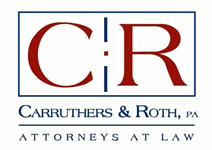 Carruthers & Roth, P.A.
235 North Edgeworth Street
P.O. Box 540
Greensboro, NC 27402
United States
(336) 379.8651
Firm Details
Founded in 1937 and located in Greensboro, N.C., Carruthers & Roth is a midsized law firm offering the best of both worlds. We have big-firm capabilities, delivered with the personalized service and responsiveness expected from a small-town practice. Our team of attorneys and supporting professionals strives to help you overcome obstacles, make informed decisions and achieve both your business and personal objectives.

Our current clients include large multinational corporations, closely-held businesses, individuals and entrepreneurs. Each benefits from the practical, results-oriented approach we take to our work and from our experience in a wide range of practice areas and industry groups.
Firm Practice Areas
Banking and Finance Law
Bankruptcy and Creditor Debtor Rights / Insolvency and Reorganization Law
Business Organizations (including LLCs and Partnerships)
Commercial Litigation
Employee Benefits (ERISA) Law
Environmental Law
Equipment Finance Law
Land Use and Zoning Law
Litigation - Construction
Litigation - ERISA
Litigation - Intellectual Property
Litigation - Labor and Employment
Medical Malpractice Law - Defendants
Personal Injury Litigation - Defendants
Professional Malpractice Law - Defendants
Real Estate Law
Tax Law
Trusts and Estates
Office Locations
United States
United States
North Carolina
North Carolina
Greensboro, NC
235 North Edgeworth Street
P.O. Box 540
Greensboro, NC 27402
United States