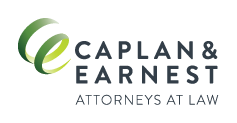 Caplan and Earnest LLC
3107 Iris Avenue, Suite 100
Boulder, CO 80301
United States
(303) 443.8010
Firm Details
Caplan and Earnest LLC was founded in 1969 on the principles of respect for clients, well-researched legal solutions, a team approach to problem solving and fair pricing. Today, those principles are alive and well as the firm attracts clients that value common sense approaches to complex legal solutions, as well as attorneys dedicated to serving client needs with intelligent and skillful problem solving.
Caplan and Earnest is unique in many respects. Unlike firms focused on their bottom line, Caplan and Earnest is first and foremost focused on the client's needs. The firm's culture is based on respect, collaboration and long-term relationships. This translates to a diverse group of attorneys and staff who pool resources, knowledge, expertise and energy to deliver excellent legal work for clients.
Today, Caplan and Earnest provides a broad range of legal services that help educational institutions, health care organizations, large corporations, small businesses and individuals make informed legal decisions that help them thrive. We instill confidence in our clients and peace of mind that our work will help them solve challenges.
Awards
Organization of the Year by the Boulder YWCA
About Our Clients
REPRESENTATIVE CLIENTS:
Adams County School District No. 1 Adams Twelve Five Star Schools Aurora Public Schools Boulder Valley School District RE-2 Brighton School District 27J Buena Vista School District R-31 Byers School District 32J Centennial School District R-1 Del Norte School District C-7 Douglas County School District Re.1 Eads School District RE-1 East Central BOCES Elizabeth School District C-1 Fremont School District RE-2 (Florence) Jefferson County School District No. R-1 Kiowa School District No. C-2 Lewis-Palmer School District 3-8 Limon School District RE-4J Montrose County School District RE-1J Montezuma-Cortez School District RE-1 North Conejos School District RE-1J Park School District R-3 Pikes Peak BOCES Platte Canyon School District No. 1 Primero Reorganized School District RE-2 San Luis Valley BOCES Sargent School District No. RE-33J Sheridan School District No. 2 Thompson School District R2-J Weld County Reorganized School District RE-8 (Fort Lupton) Weld County School District RE-4 (Windsor)
Boulder Community Hospital, Boulder CODenver Health and Hospital Authority, Denver CO The Memorial Hospital, Craig CO Aspen Valley Hospital, Aspen, CO Yuma District Hospital, Yuma CO Heart of the Rockies Regional Medical Center, Salida CO Associates in Family Medicine, Fort Collins, CO Surgery Center of Fort Collins, LLC, CO Rocky Mountain Endoscopy Centers Frasier Meadows Retirement Community, Boulder, CO The Imaging Center, Fort Collins
Firm Practice Areas
Administrative / Regulatory Law
Education Law
Health Care Law
Immigration Law
Litigation - Health Care
Real Estate Law
Trusts and Estates
Office Locations
United States
United States
Colorado
Colorado
Boulder, CO
3107 Iris Avenue, Suite 100
Boulder, CO 80301
United States
(303) 443.8010