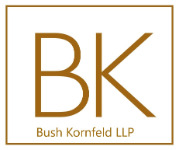 601 Union Street, Suite 5000
Seattle, WA 98101
United States
(206) 292.2110
Firm Details
Since 1992, we have helped both small and large companies master their financial challenges. Widely respected in the Washington State legal community, we are known for our intelligence, diligence and tenacity in helping companies deal with lenders, landlords, trade creditors and taxing authorities.
Named one of U.S. News Best Law Firms® for 2012-2018 (receiving its Tier 1 ranking for the Seattle area), and one of the top three Washington law firms for business and transactions in Super Lawyers® Business Edition 2014, the Bush Kornfeld LLP practice focuses almost exclusively on commercial debtor and creditor issues, with an emphasis on representing companies in out-of-court workouts and restructurings and as debtors in Chapter 11 bankruptcy cases. We also routinely represent creditors, creditor committees, and trustees in this arena. Chambers USA, an independent directory which researches and assesses law firms and lawyers in America, cited Bush Kornfeld as "[t]he lead boutique bankruptcy firm in the city," lawyers as "effective, pragmatic," "creative and practical," and "(d)eservedly a Band 1 firm . . . a solid group of very strong lawyers," cited Gayle Bush as "a top-tier debtor lawyer" and "a superb lawyer who does a great job for his clients," cited Jay Kornfeld as "an outstanding negotiator," "highly regarded among his peers for his excellent practice, particularly in general Chapter 11 work" and as "attract[ing] garlands for his bankruptcy, restructuring and workout engagements across a range of businesses and industries," and cited the pair as "names that instantly spring to mind" and "a pair of creative problem solvers."
The attorneys at Bush Kornfeld LLP have significant experience with financial problems in a wide variety of fields, including real estate developments, commercial fishing, telecom, wood products, retail, grocery, high-tech, biotech, dairy/agricultural, distributorships and financing institutions. In recent years, the firm has represented TC Global, Inc. (Tully's Coffee) in its sale process through Chapter 11, generating a greater return than estimated by financial professionals (receiving a 2014 Turnaround Management Association Small Transaction of the Year Award for one of the most successful and impactful turnaround transactions, saving hundreds of jobs and making a significant economic impact, both locally and globally); The Seattle Times Company in its successful restructure; Brown & Cole Stores (30 stores, $300 million annual revenues, $100 million debt to 7 lenders; 1,500 employees) and Port Townsend Paper (large paper mill, $300 million annual revenues, 1,000 employees) in their successful Chapter 11 reorganizations; the Chapter 7 Trustee in the Michael Mastro case, one of the largest bankruptcies in the Western District of Washington; Larry's Markets in its Chapter 11 sale efforts; Associated Grocers in its successful workout ($1 billion annual revenues, $300 million debt to 17 lenders); numerous residential and commercial real estate developers/builders; and publicly-traded companies such as CellPro, UStel and Westar Leasing.
Management
Awards
Chambers USA Band 1 Law Firm Bankruptcy/Restructuring: Washington
Washington Law & Politics, Super Lawyers Business EditionTop Law Firms for Business & Transactions
Best Law Firms Tier 1 Seattle Bkrtcy Creditor Debtor Rights Insolvency Reorg Law Litigation Bkrtcy
Clients
Alaska Power & Telephone Company Ch. 11
Associated Grocers
Bettencourt Dairies, LLC
Boise Food Service, Inc. Ch. 11
Brown & Cole Stores LLC Ch. 11
David Syre Ch. 11
Future Claims Representative in Spokane Archdiocese Ch. 11
Larry's Markets, Inc. Ch. 11
Michael R. Mastro Bankruptcy Trustee Representation
Pierce County Housing Authority Ch. 9
Port Townsend Paper Ch. 11
Skippers Ch. 11
TC Global, Inc. (Tully's Coffee)
The Seattle Times
USTel, Inc.
About Our Clients
Ace Tank & Equipment Unsecured Creditors Committee; Alaska Power & Telephone Company; Associated Grocers; B & T Olson Family LLC; Bettencourt Dairies, LLC; Blockbuster Inc.; Boise Food Service, Inc.; Brooks Sports; Brown & Cole Stores LLC; Canadian Imperial Bank of Commerce; Coast to Coast Seafood, Inc.; Cook Inlet Region, Inc.; Deep Ocean Expeditions, LLC; Emerald Resources; Entellium Corp.; Everett Shipyards, Inc.; Expedia; Future Claims Representative in the Spokane Archdiocese Ch. 11; Laplink, Inc.; Larry's Markets, Inc.; MarCap Corp.; Metropolitan Federal Savings & Loan Association; Michael R. Mastro Bankruptcy Trustee Representation; Meridian Sunrise Village L.L.C.; Microsoft Corp.; Nordea Bank Norge ASA; Olympic Venture Partners; Osram Sylvania, Inc.; Paper Zone LLC; Pierce County Housing Authority; Port of Port Angeles; Port Townsend Paper; Portfolio Acceptance Corp.; Safeco Properties, Inc./Winmar Company, Inc.; Sea Hawk Seafoods, Inc.; The Seattle Times; Skipper's; Tesoro Refining and Marketing Company; Ticketmaster; TC Global, Inc. (Tully's Coffee); USTel; Warner Lambert; Washington Federal Savings & Loan Association; Worldwide Distributors, Inc.
Firm Practice Areas
Bankruptcy and Creditor Debtor Rights / Insolvency and Reorganization Law
Litigation - Bankruptcy
Workouts and Restructurings
Office Locations
United States
United States
Washington
Washington
Seattle, WA
601 Union Street, Suite 5000
Seattle, WA 98101
United States