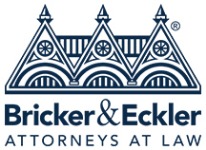 Headquarters
100 South Third Street
Columbus, OH 43215-4291
United States
(614) 227.2300
Firm Details
Bricker & Eckler is a leading Midwest law firm with offices throughout Ohio and clients across the country. Here's what makes us different:
Industry Focus. With particular strength serving clients in Health Care, Energy & Public Utilities, Financial Services & Insurance and the Public Sector, we resolve and prevent legal issues using our in-depth knowledge and connections in these industries.
Client Relationships. Bricker has earned a strong reputation for exceptional service. To us, service means not only being responsive, accessible and reliable but also being client-focused and understanding each client's business, industry and measures of success. Our client relationships are built on trust, partnership and shared goals.
Depth Where it Counts. We address our clients' aspirational goals and needs with multi-disciplinary teams of attorneys including the sophisticated litigators, transactional and government/regulatory attorneys our clients rely on.
Management
Top Listed National Awards
Top Listed in the United States in Education Law with 10 lawyers
Top Listed State Awards
Top Listed in Ohio in Education Law with 10 lawyers
Top Listed in Ohio in Energy Law with 5 lawyers
Top Listed in Ohio in Energy Regulatory Law with 4 lawyers
Top Listed in Ohio in Health Care Law with 11 lawyers
Top Listed City Awards
Top Listed in Columbus in Education Law with 7 lawyers
Top Listed in Columbus in Health Care Law with 10 lawyers
Top Listed in Columbus in Public Finance Law with 4 lawyers
Top Listed in Columbus in Real Estate Law with 6 lawyers
Clients
Catholic Health Partners
Daimler Group, Inc.
JPMorgan Chase Bank, N.A.
Kenyon College
Key Bank National Association
National Church Residences
Nationwide Children's Hospital
Nationwide Mutual Insurance
Ohio Manufacturers' Association
OhioHealth Corp.
Pacific Life Insurance Company
The McGraw-Hill Companies, Inc.
Whirlpool Corporation
Firm Practice Areas
Administrative / Regulatory Law
Antitrust Law
Appellate Practice
Banking and Finance Law
Bankruptcy and Creditor Debtor Rights / Insolvency and Reorganization Law
Commercial Litigation
Communications Law
Construction Law
Corporate Compliance Law
Corporate Governance Law
Corporate Law
Education Law
Employee Benefits (ERISA) Law
Employment Law - Individuals
Employment Law - Management
Energy Law
Environmental Law
Equipment Finance Law
Government Relations Practice
Health Care Law
Insurance Law
Labor Law - Management
Litigation - Antitrust
Litigation - Banking and Finance
Litigation - Bankruptcy
Litigation - Construction
Litigation - Environmental
Litigation - Labor and Employment
Litigation - Real Estate
Litigation - Trusts and Estates
Litigation and Controversy - Tax
Medical Malpractice Law - Defendants
Mergers and Acquisitions Law
Natural Resources Law
Oil and Gas Law
Personal Injury Litigation - Defendants
Public Finance Law
Real Estate Law
Securities / Capital Markets Law
Tax Law
Trusts and Estates
Water Law
Workers' Compensation Law - Employers