Firm Profile

Firm Details
Borenius Russia is one of the largest business law firms in Northwest Russia. We advise local and foreign clients from various industries on all aspects of business law throughout Russia.
Based on a thorough understanding of the Russian legal system and business environment we offer hands-on approach to work and efficient business solutions.Our team's expertise, professionalism, and business thinking have been acknowledged by the leading international ranking institutions such as Chambers and Partners, The Legal 500, IFLR 1000 and The Best Lawyers.
Borenius Attorneys Russia Ltd is a daughter company of Borenius Attorneys Ltd with headquarters in Helsinki. Borenius provides our clients easy access to more than 200 Finnish, Russian and US professionals.

Borenius Attorneys Ltd and Borenius Group

Borenius Attorneys Ltd is one of the largest leading law firms in Finland. The firm was established in 1911 and now consists of over 200 employees in three jurisdictions. We provide an easy access to full-scale business law solutions in Finland, Russia and in the U.S. New York.
Management
Law Firm of the Year Awards
Arbitration and Mediation in Russia (2021)
Top Listed City Awards
Top Listed in St. Petersburg in International Arbitration with 6 lawyers
"Law Firm of the Year"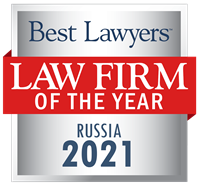 Russia's 2021 "Law Firm of the Year" in Arbitration and Mediation
Firm Practice Areas
Administrative Law
Arbitration and Mediation
Banking and Finance Law
Capital Markets Law
Construction Law
Corporate Governance and Compliance Practice
Corporate Law
Environmental Law
Financial Institutions
Information Technology Law
Insolvency and Reorganization Law
Insurance Law
Intellectual Property Law
International Arbitration
Investment
Investment Funds
Labor and Employment Law
Land Use and Zoning Law
Litigation
Maritime Law
Media Law
Mergers and Acquisitions Law
Mining Law
Planning
Private Equity Law
Railroad Law
Real Estate Law
Regulatory Practice
Tax Law
Technology Law
Telecommunications Law
Transportation Law
Venture Capital Law
Office Locations
Russia
Russia
St. Petersburg, Russia
Malaya Konyushennaya Street 1/3A, B33
St. Petersburg 191186
Russia