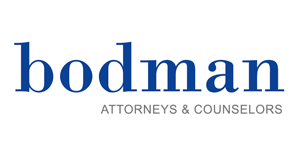 Headquarters
Ford Field, Sixth Floor
1901 Saint Antoine Street
Detroit, MI 48226
United States
(313) 259.7777
Firm Details
Bodman clients demand the best. We, in turn, are laser-focused on providing the highest quality legal services to clients in Michigan, across the United States, and around the world.

Our clients are businesses, individuals, and institutions with big ideas and big achievements. For more than 85 years, they have trusted us to serve as a strategic business partner. In exchange, we offer them the insight, experience and value they need to succeed.

We value long-term client relationships above short-term gain, and we nurture those relationships carefully. We work to understand our clients' businesses and the markets within which they operate. This enables us to provide both strategic advice and preventative counsel to address potential issues efficiently and discreetly before they become significant and expensive problems. We deliver on our promises with quality, integrity, and knowledge.

The power of our approach is clear in the extraordinarily long-term relationships we have. For example, we have represented the interests of the Ford family continuously since 1929. We have represented Comerica Incorporated and its predecessor, Manufacturers National Bank of Detroit, since we helped found Manufacturers in 1933.
Management
Top Listed State Awards
Top Listed in Michigan with 24 lawyers
Top Listed in Michigan in Banking and Finance Law with 15 lawyers
Top Listed in Michigan in Trusts and Estates with 6 lawyers
Top Listed City Awards
Top Listed in Detroit with 17 lawyers
Top Listed in Detroit in Banking and Finance Law with 12 lawyers
Top Listed in Detroit in Commercial Litigation with 5 lawyers
Top Listed in Ann Arbor in Corporate Law with 4 lawyers
Top Listed in Detroit in Litigation - Bankruptcy with 4 lawyers
Top Listed in Detroit in Trusts and Estates with 4 lawyers
Top Listed in Detroit in Trusts and Estates with 5 lawyers
Awards
Detroit Free Press "Top Workplace"
Pro Bono Circle of Excellence (Michigan State Bar)
LAD Pro Bono Attorney of the Year (Karen L. Piper)
Crains Detroit Business "Cool Place to Work"
Legal Marketing Assoc.-Midwest Your Honor Award
Michigan Community Resources Law Firm of the Year
Corp! Magazine Diversity-Focused Company
Clients
Bank of America
Blue Cross Blue Shield of Michigan
Cerberus Capital Management
Comerica Bank
Financial Institutions Compliance Cooperative
Flagstar Bank
Freudenberg North America
The Huntington National Bank
Lear Corporation
Memorial Healthcare
Pulte Homes of Michigan
Roman Catholic Archdiocese of Detroit
Sparton Corporation
Firm Practice Areas
Appellate Practice
Aviation Law
Banking and Finance Law
Bankruptcy and Creditor Debtor Rights / Insolvency and Reorganization Law
Bet-the-Company Litigation
Business Organizations (including LLCs and Partnerships)
Closely Held Companies and Family Businesses Law
Commercial Litigation
Commercial Transactions / UCC Law
Construction Law
Copyright Law
Corporate Governance Law
Corporate Law
Economic Development Law
Employee Benefits (ERISA) Law
Employment Law - Management
Environmental Law
Financial Services Regulation Law
Food and Beverage Law
Government Relations Practice
Health Care Law
Insurance Law
International Arbitration - Commercial
IT Outsourcing Law
Labor Law - Management
Land Use and Zoning Law
Litigation - Banking and Finance
Litigation - Bankruptcy
Litigation - Construction
Litigation - Environmental
Litigation - First Amendment
Litigation - Insurance
Litigation - Intellectual Property
Litigation - Labor and Employment
Litigation - Land Use and Zoning
Litigation - Municipal
Litigation - Patent
Litigation - Real Estate
Litigation - Securities
Litigation - Trusts and Estates
Mergers and Acquisitions Law
Municipal Law
Nonprofit / Charities Law
Privacy and Data Security Law
Public Finance Law
Real Estate Law
Securities / Capital Markets Law
Tax Law
Technology Law
Trademark Law
Trusts and Estates
Venture Capital